Cipro caused tendon/nerve damage
by Margie K
(Santa Barbara, CA)
I'm 43 years old and was in great health and my career was going strong. I had a reaction after my 3rd pill of Cipro.


9/15/13: Woke up 3 times during the time with extreme leg pain in calves – felt like tearing. When I moved my legs to readjust/stretch, the pain got worse. Joints felt achy all day. I felt like I was 120 years old, in a haze and couldn't walk straight and had so much pain. Sitting in the jacuzzi helped.
9/16/13
Joints and legs felt sore. Lower back tightness.
Calves: Tight & sore
Left Knee: Popped as I put pressure bending it on a chair. It has been swollen and unstable since. I can't bend down easily and once I do, I can get back up.
Feet: feel like they are walking on rocks (can only wear cushioned shoes)
My knee joints and legs are feeling like they are burning. I'm not able to walk very far without joint swelling and pain.
Drove to Oxnard 3x this week for work. Calves seized up while standing in line at grocery store. Difficult to drive – extreme pain in tendons. Had to put icy hot on my calves to make the drove home. Left Knee pain continues.
General pain all over extremities. I have nerve pain radiating up from both feet into my legs and my arms & hands. Mornings are tolerable. By 2pm, my feet/ankles/knee are swollen. Nerve pain starts mid-afternoon – I feel like I want to rip off my skin as it feels compressed. My socks and shoes are leaving a deep impression on my skin due to swelling. I have a tingly feeling all over my extremities – this continues all night. Evenings 5-10pm are the worst. My nerves can't seem to find the perfect temperature.
My chiropractor told me not to exercise for at least 3 months as random muscle/tendon tearing can happen at any time.
10/7/13 – Had appointment with Doctor
My symptoms are: pain in calves (cramping), left knee damage (something torn), and peripheral neuropathy. I went to the lab for blood work to check my magnesium levels and electrolyte levels.
I'm also being referred to a knee specialist to access the damage to my knee. The doctor suggested Advil and tonic water (quinine) to reduce muscle spasms. The doctor doesn't have an answer for me but admits this must be a reaction to Cipro.
I stopped drinking all caffeine and alcohol and this has helped. I take 5-HTP at night which dulls my nerve pain. I sit on a heating pad most afternoons and
do hot heat massages on my legs. I use Hylands muscle rub to get the circulation in my legs going. I feel like I need to wear leg/arm warmers 100% of the time. I also get night sweats - core is warm but extremities are freezing.
Here's my list of self-prescribed supplements based on the research I've been doing. I will be making the collagen soup as well:
Vitamins/Supplements
Levothyroxine – 88
Collagen – Vitamin C 100 mg + Collagen 1480 mg
Glucosamine Chondroitin complex with MSM – Vitamin C 250mg, Molybedenum 320 mcg, Sodium 30 mg, Glucosamine 1.5g, Chondroitin 1.2g, MSM 800mg
Probiotics – 50-90 million
Hydraplenish – Hydrolyzed Collagen Type II 600mg, Chondroitin Sulfate 200mg, Hyaluronic Acid 100mg
Resvinatrol: Vitamin D 1000 IU, Resvinatrol 100mg
Vitamin D3 – 2000IU
Multivitamin – Whole Green Foods, Digestive + Probiotic support
Fish Oil – wild Alaskan Salmon oil (Omega 3/6/9 + 5,7&8)
Supplements @ Bedtime:
MyoCalm: Calcium 50mg, Magnesium 100mg, Passionflower 40mg, Valerin 30mg
Calcium Magnesium & Vitamin D: D3 700IU, Calcium 500mg, Magnesium 250mg, Malic Acid 650mg
Double strength Ultra ATP- Magnesium 125mg, Malic Acid 1200mg
Osteo Tec UC II: Calcium 80mg, Chicken Cartiledge 40mg, Red Algae Sea Mineral 250mg
I hopeful to recover, although I know that I'll need a wheelchair at the airport next month when we travel. It makes me terribly sad to realize that I can't keep up with my 4 year old daughter. I try to stay positive and a practice self-relaxation techniques before going to bed - this seems to relax me and improve my circulation.
----
Joshua Answers:
Hello Margie.
How are you feeling now, 7ish months later?
That's rare that a doctor admits your symptoms are from the Cipro. I wonder if he put that down officially on paper somewhere.
Cipro
and
Levaquin
are known (by anybody that's paying even a little bit of attention) to cause side effects like you describe.
It's not regular
Tendonitis
See:
What Is Tendonitis
That's great you did research and were supplementing, I wish I'd gotten to your submission sooner to have thrown some suggestions in there.
How have things progressed?
----------------------
Please reply using the comment link below. Do not submit a new submission to answer/reply, it's too hard for me to find where it's supposed to go.

And, comments have a 3,000 character limit so you may have to comment twice.
-----------------------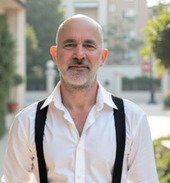 Joshua Tucker, B.A., C.M.T.
The Tendonitis Expert
www.TendonitisExpert.com