Classical guitar right hand pain, radiating pain
by Joe cileo
(California)
Hello, my name is Joe, I'm 17, and am suffering from pain in my right hand. Classical uses a completely different technique then normal strumming, which is finger movement from mostly the top knuckle. the wrist also seldom moves, only to bend downward occasionally, so none of the sideways motion regular guitar sees.


The pain radiates from inside my wrist to the right side and to the fingers. It is a burning and achy pain. Sometimes in the forearm too.
It's taking my life away, please get back to me.
Thanks so much in advance.
----
Joshua Answers:
Hi Joe.
Good news/bad news, your nervous system doesn't much care -how- you play guitar.
If you get your body to a point where it starts to hurt, the nervous does it's thing, each and every time.
It might look a little different from person to person, but the pattern is the same.
Tendonitis
is Tendonitis. Every body part has a slightly different relationship due to usage and mechanics and anatomy, but again, the pattern is the same.
That radiating pain, and burning sensation, those are common side effects of the
Process of Inflammation
and too tight muscles and too tight connective tissue.
Repetitive motion from playing guitar is the main culprit, and there are some other factors that can play
a role too, including nutrition.
And the guitar player dynamic has a personality different that somebody that types a lot, so the more targeted your self care, the better.
How about this. Get my
Reversing Guitar Tendonitis ebook
(saves me a lot of typing here, as it's all there), follow the plan for a good 10-14 days, and then use the contact form to get a hold of me, and we'll do any fine tuning that we need to do to make sure you're getting the results you want.
See Related:
Classical Guitar Wrist Pain I Want To Play Professionally All My Life
----------------------
Please reply using the comment link below. Do not submit a new submission to answer/reply, it's too hard for me to find where it's supposed to go.

And, comments have a 3,000 character limit so you may have to comment twice.
-----------------------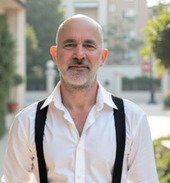 Joshua Tucker, B.A., C.M.T.
The Tendonitis Expert
www.TendonitisExpert.com