Confused If I have Tendonitis or Carpel Tunnel
by Janelle
(Oz)
Hi,
Years ago I used to get pain in my wrist and hand due to over use continual hair cutting and the docs told me I could have carpel tunnel, after I gave up that profession it seemed to relieve it, that was around 15 years ago, came back again when I was pregnant with numbness in my fingers when I woke in the mornings.
Now over this last weekend I did some boxing on both days, (I have been doing boxing for 3 months)
On Monday when I woke up my wrist was sore, I went to work, I work in childcare, and when I went to lift one of the children my wrist just shot a pain and gave way on me. I lift them with both hands under the arms in the normal way. This has been happening for the last 2 days, went to the doc earlier today he said Tendonitis.
These are my symptoms:
My left wrist
My hand was very swollen this morning when I woke.
I can move my wrist etc okay except when trying to twist it sideways to the left, I get pain when lifting everything and my wrist gives way on me
I get a shooting pain go through my hand on the top between my first and index finger, and also pain on the pinky ring side of my arm at my wrist (not my finger) this is where i get a lump appear. And my wrist is sore in this area.
If i turn my hand over so the palm is to the roof the lump is on the inside about a pinky finger thickness from my wrist joint, (hope that makes sense)
My hand feels a little fuzzy on the top where the pain shoots through.
I can't carry a
plate in this hand, I cant open a milk bottle top in this hand, I cant carry a cup of tea in this hand, etc as I get the pain shoot through and I have no strength it just gives way.
During previous boxing rounds (with focus pads) my wrist has been tender and my thumb goes a little numb and very sore in the first knuckle joint.
Just wondering what your thoughts would be, hope I have given you enough info.
----
Joshua Answers:
Hi Janelle. Yep, that's a good start, info wise.
I have some thoughts but let me get a little more info.
1. How much swelling? Where? How much area does it cover?
2. That lump. Does it come and go, or is it constant. And it showed up after you lifted the kid, yes? Or it's been there a long time?
3. Is the lump -on- the tendon? Meaning part of it? Or is it floating around? (Or, do you mean 'swelling' when you say lump?
4. Describe what you mean when you say 'it gives way'. Do you mean it hurts so bad you have to stop, or do you mean it literally gives way, as if it breaks or goes totally limp?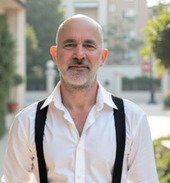 Joshua Tucker, B.A., C.M.T.
The Tendonitis Expert
www.TendonitisExpert.com