Contemplating Surgery For Plantar Fasciitis And Other Foot Issues
by Linda
(KY)
I have been through it all for 18 months with no relief from Plantar Fasciitis or so we thought until the doctors finally did a bone scan and MRI. The bone scan lit up like a Christmas tree.
Two orthopedic physicians were amazed with what they saw in my foot. I have five conditions at one time.
1. Osteochondral lesion medial talar dome w/ surrounding bone marrow edema.
2. Mild bone marrow edema lateral talus, lateral calcancus and the cuboid.
3. Posterior tibial tendinosis.
4. Posterior planter faciitis.
5. Chronic anterior talofibular ligament tear.
I have surgery scheduled in a couple of weeks. However, I am concerned. He wants to do five procedures and the only one that concerns me is the endoscopic planter fascia release. He mentioned doing an 80% release.
Is is possible that by correcting with the other four procedures that the Plantar Fasciitis would get better? I am really reluctant to have the PF cut, especially 80%.
Thanks,
Linda
----
Joshua Answers:
Hello Linda.
Yikes. That's a lot going on in your foot.
Makes me wonder why all that is going on in the first place.
To answer your specific question, I can't imagine that cutting through 80% of the structural connective tissue that supports and holds together the bottom of your foot is going to reverse any of the factors that caused all this in the first place.
Maybe, but.....personally I wouldn't do it.
I'm not a doctor, I can't (legally) say whether it will help or not, and really, I don't know.
The thing is, your doctors don't really know either.
It could be that this is happening because you don't have -enough- support in the foot, or at least, some parts aren't doing their job and other parts have to pick up the slack and work harder than they are happy to work.
Maybe you have plantar fasciitis pain from the plantar fascia having to shoulder too much of the load, for instance, because when the posterior tibialias isn't doing it's job correctly it lets the foot arch fall flat, which then overstretches the plantar fascia.
My questions to the doctor(s) would be "What is causing all this in
the first place?"
If they have a good answer, I'd be more inclined to believe them if they say surgery can fix it.
Doctors are on the 'surgery to get rid of symptoms' side of things, as opposed to the 'fix the original, actual problem' side of things.
What do they say your chances of recovrey are?
Bone Marrow Edema usually accompanies breaks and fractures in bone. No surprise that you have BME as part of this dynamic. There's a lot of force being improperly applied to the foot, it looks like, and the same forces that are hurting your bones can be ripping your ligaments.
Questions for you:
1. Just one foot, correct?
2. Do you have any osteopenia with the bone marrow edema?
3. What do your daily activities on your feet look like, that may be a clue towards the cause? I'm curious if you are sedentary and just falling apart, or if you are on your feet a lot and pounding them into pieces.
4. Overweight?
5. Overall health?
6. Any other bone problems,
Tendonitis
issues, or pain issues?
7. Did this suddenly start 18 months ago, or has it been slowly coming on over time. Meaning, did pain show up suddenly, or sneak up on you and gradually get worse and worse.
So I don't know if that answered your question or not. Unfortunately, there is no cut and dry, 100% correct answer out there.
But I think your instinct is correct.
----------------------
Please reply using the comment link below. Do not submit a new submission to answer/reply, it's too hard for me to find where it's supposed to go.

And, comments have a 3,000 character limit so you may have to comment twice.
-----------------------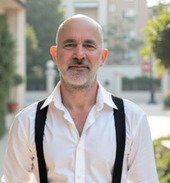 Joshua Tucker, B.A., C.M.T.
The Tendonitis Expert
www.TendonitisExpert.com