CROSS FIBRE ( FIBER) FRICTION MASSAGE FOR TENDONITIS
Hi Joshua !


can you give an explanation of what this is ?
there seems to be a lot of support for massage alongside ice therapy for tendon pain
and I have noticed cross fibre friction massage seems to be a popular choice
can you give us folks an idea of what it is and how we can do it for ourselves ?
have a nice day
----
Joshua Answers:
Certainly!
Cross fibre friction is a technique where, essentially, one massages back and forth perpendicular to the tendon direction.
So if you have
Wrist Tendonitis
where you have a specific spot of wear and tear damage and scar tissue build up, you could 'fix' that spot of damage.
The way you would do that with cross fiber friction, is to rub back and forth across the tendon at that point, and the area close to it.
You can also go up and down along the tendon, or do circles. For most people it doesn't matter that much, the important part is to get in there and rub on it.
Gently at first, then work in firmer and firmer. You are essentially grinding the tissue until it's soft and gummy and pain free instead of dry and crunchy and painful/tender.
----------------------
Please reply using the comment link below. Do not submit a new submission to answer/reply, it's too hard for me to find where it's supposed to go.
-----------------------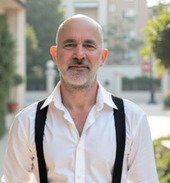 Joshua Tucker, B.A., C.M.T.
The Tendonitis Expert
www.TendonitisExpert.com