Elizabeth's Plantar Fasciitis Surgery Story
by Elizabeth Whitaker
(GR, MI, USA)
I started having foot pain at least 4 years ago.


I'm 42 years old and slightly overweight (some months more or less). I always wore running shoes..not flip flops or high heels.
The pain started out just in the morning, then throughout the years, I had added aches during the day after work and running. It was so severe I felt like crying after my 5 hour standing job.
I couldn't run and going for a family walk wasn't even relaxing. I tried PT for 4 weeks, but I was swelling and severe pain on the top of my foot, and that's when the Dr. said that's enough. I suggest surgery.
The actual Surgery was not painful at all. I was not knocked out, but I don't remember anything. I left with a walking cast that's large and black. Dr. said everything went as planned.
It's been almost 2 weeks at this point and haven't walked yet.
Pain and recovery is not painful it was worst before surgery... not walking is hard since I have 5 kids, hubby, and a dog. The pain is not bad at all, I feel pulling once in a great while, and the pain pills I stopped taking 2 days afterwards they made me dizzy. In fact, the worst part is the crutches!
I drove my van with my left foot several times on slower roads (not too hard).
I haven't stepped
on it yet.
I'm a bit worried because now my OTHER foot is starting. I'm getting the night splint and working on stretches!
I'm not done I know, but so far so good. :)
----
Joshua Comments:
Hi Elizabeth, thanks for sharing!
Yeah, that's gotta be tough staying off your feet with 5 kids , a dog, hubby, etc!
Yep, that's how it starts. Ache in the mornings in the feet, and then slow progression over the years, usually we don't even notice or pay attention till it's 'bad'.
That's how
Tendonitis
works.
See:
What Is Tendonitis?
And of course,
Plantar Fasciitis
is the tendonitis dynamic.
Please do keep us updated both on surgery recovery, and the other foot too.
----------------------
Please reply using the comment link below. Do not submit a new submission to answer/reply, it's too hard for me to find where it's supposed to go.

And, comments have a 3,000 character limit so you may have to comment twice.
-----------------------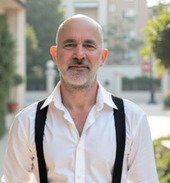 Joshua Tucker, B.A., C.M.T.
The Tendonitis Expert
www.TendonitisExpert.com