EMG & NERVE CONDUCTION TEST NOT SO BAD!
by Ann
(Hyde Park, Ut, USA)
I've had carpal tunnel syndrome for 2 years and in July (a few months ago) I had the nerve conduction test.


Yes, there were shocks and some needles, but honestly the pain and all that from the carpal tunnel were a lot worse than the nerve conduction test and I've had no problems since from the test.
But I had the carpal tunnel surgery four weeks ago and I'm not too thrilled with that. My left hand was done which was a severe category but it's healed EXCEPT that the wrist area is red and bumpy and hurts quite a bit.
Where's my 30 day money back guarantee? No actually I know there is no guarantee but I sure hope it gets better. Won't get the other hand done until the left heals - don't need this
----
Joshua Answers:
Hi Ann.
Thanks for sharing.
So you had numbness and tingling, and that's why you got a diagnosis of
Carpal Tunnel Syndrome
?
And post-carpal tunnel surgery, your current symptoms are just pain/irritation at the surgery site?
Money back guarantee. Ha! That's funny. :)
----------------------
Please reply using the comment link below. Do not submit a new submission to answer/reply, it's too hard for me to find where it's supposed to go.

And, comments have a 3,000 character limit so you may have to comment twice.
-----------------------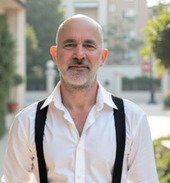 Joshua Tucker, B.A., C.M.T.
The Tendonitis Expert
www.TendonitisExpert.com