Excruciating tendon pain from Levaquin for sinus infection
by Kim
(Overland Park, KS)
In October 2010 I had a sinus infection and was treated with Levaquin. On the third day I noticed severe joint pain in my legs, the next day my friend who is a doctor told me to discontinue the medication.


I took Aleve for the pain and it helped for a short time, but I have been dealing with this terrible leg pain for over a year now. Some days are worse than others, but overall the pain is debilitating and has had a major impact on my life.
I am 46 years old, but some days I feel like I'm in my 80's. Everyday I regret taking Levaquin and will never take another "quinolone" ever again.
In fact, I've suffered through several sinus infections over the last year and have only used OTC drugs and a sinus rinse.
I can't understand why this drug is still on the market considering all of the people who have been negatively affected by Levaquin.
----
Joshua Answers:
Hi Kim.
Sorry to hear you've been injured by Levaquin.
It's still on the market because A. The medical/pharmaceutical industry makes LOTS of money off it, and B. officially 'only' 1-3% of patients taking Levaquin suffer side effects.
Hundreds of thousands of people take Levaquin daily....and some sources say that really it's 3%-30% of people suffering from damaging side effects ( the other 27% mostly shows up as mysterious illness and disease as
the Levaquin antibiotic attacks organs and brain and nervous system.
Tendonitis
is one thing.
Levaquin Tendonitis
is something else entirely.
It's a GOOD idea for you to NEVER take Levaquin, or any other fluroquinolone again. You are clearly susceptible to the cytotoxicity it causes, and taking more would surely injure you further.
What's up with those sinus infections? Something is/has been off in your immune system function.
Of all the things I could say about that, make sure your Vitamin D level is up between 50-80. Vitamin D is a HUGE player in the immune system operation.
----------------------
Please reply using the comment link below. Do not submit a new submission to answer/reply, it's too hard for me to find where it's supposed to go.

And, comments have a 3,000 character limit so you may have to comment twice.
-----------------------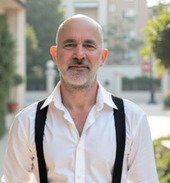 Joshua Tucker, B.A., C.M.T.
The Tendonitis Expert
www.TendonitisExpert.com