Exercising When Suffering From Tendonitis, in the foot area
by Paul
hi joshua


as you know I have tendonitis problems in my ankle and side of foot ( the peroneals )
is it really wise to continue exercising ( in my case I enjoyed walking ) as I find even moving around the house causes pain ?
should I be fully resting my ankle from any sort of movement ?
or might it be that gentle walking is exactly what I need to be doing to keep things moving down there ?
a walk, followed by a good ice massage ?
and then finger massage to sore areas ?
I am sure if I had a tear in my tendon picked up by MRI they would say exactly that...lets put you in a brace for a few weeks to see if it heals .....if not ..lets stich it back together ?
but just soreness and inflammation ?
maybe I need to accept I will get pain after a walk ?...and that a good ice and massage is needed..instead of just sitting around at home ?
----
Joshua Answers:
Hey Paul.
Overall, I'll go with continued movement over immobilization, everytime.
Unless there is significant rip/tear to a structure.
If you are doing the self care, and I know you are, then you're most likely fine going
for walks. Walking is non-impact, theoretically.
Especially if you have stiffness in the area/structure/joint. You GOTTA keep it moving. The body has a tendency to lock down (or at least move in that direction) and you have to counter it with movement.
That a lot of the
Tendonitis
dynamic. Things get tight, stay tight, everything around it starts to tighten up, etc.
Yes, a walk, followed by icing and/or self massage. Anywhere there is stiffness, tightness, pain, go after it.
----------------------
Please reply using the comment link below. Do not submit a new submission to answer/reply, it's too hard for me to find where it's supposed to go.

And, comments have a 3,000 character limit so you may have to comment twice.
-----------------------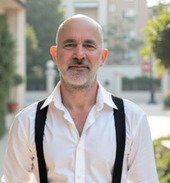 Joshua Tucker, B.A., C.M.T.
The Tendonitis Expert
www.TendonitisExpert.com