Extreme Pain In My Wrist, and hand is swollen, can't move wrist
by jjt
(wi)
I have extreme pain in my wrist... my hand is swollen, cannot move my wrist..... happened 1 week ago... think it is wrist tendonitis... but... . is still swollen.. cannot put on a brace.... help.......


----
Joshua Answers:
Yikes! Sounds painful.
1. Did you do anything to cause an injury?
2. Why do you think that it is
Wrist Tendonitis
?
3. Has it ever hurt before? Has it ever been swollen before?
4. What does 'swollen' mean? How much?
5. Where exactly does it hurt? Where exactly is it swollen?
----------------------
Please reply using the comment link below. Do not submit a new submission to answer/reply, it's too hard for me to find where it's supposed to go.

And, comments have a 3,000 character limit so you may have to comment twice.
-----------------------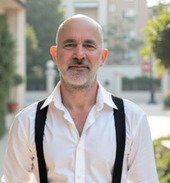 Joshua Tucker, B.A., C.M.T.
The Tendonitis Expert
www.TendonitisExpert.com