Fell On Wrist Playing Basketball, 3 months later still bothers me. Wrist Tendonitis?
by Charles
(Annapolis, Md)
I fell on my right wrist playing basketball and I went to the doctors and they thought I sprained it or fractured the small bone in the thumb.
They said the treatment either way was 6 months in a brace.
Did that and now I can bend it and move it without pain but when I play basketball it still bothers me. It will crack and pop when I bend it back and move it forward. It will also send a pain through my wrist when I snap my wrist and put pressure on my index finger.
It's been like 3 months now. Does anyone have idea what it is and if there is anything I can do about it? Thanks
----
Joshua Answers:
Hi Charles.
1. Did they do an x-ray?
2. In a cast, or a brace that you took off and on?
3. How -exactly- did you fall?
4. The thumb or the wrist will crack and pop?
5. Pressure on your index finger, like how?
6. What makes it hurt playing basketball?
7. Does it hurt when it's at rest, or when you're sleeping/laying around at night?
Six months in a brace. Ouch. Wish you'd found me a long time ago.
If you didn't break anything, or rip anything, that's good news.
It doesn't sound like a
Wrist Tendonitis
issue, though there is certainly some elements of the Tendonitis dynamic at play, namely the
Pain Causing Dynamic
of increasing tightness and pain.
Still, I'm guessing that's a minor factor here. At this point I'm going with a specific spot of injury that is continually kicking out a tiny (geographically) but acute
Process of Inflammation
.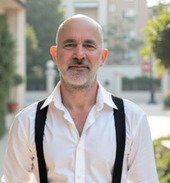 Joshua Tucker, B.A., C.M.T.
The Tendonitis Expert
www.TendonitisExpert.com