Going in for my 2nd Plantar Fasciitis release on Tuesday, but still having problems with 1st foot
by Stephanie
(Easley, SC)
I 36years old & am/was a labor & delivery nurse for 10 + years. 2 years ago I tore my R rotator cuff in an unrelated accident. So I had my surgery, did my 3 mo of therapy & went back to work feeling great.


2 1/2 weeks after returning to work I was delivering a baby with an out of control mom & she literally drug me off the back of the end the bed by my R arm. Re-tore the rotator cuff. pulled my shoulder away from my spinal column, among many other things.
Needless to say I have not been back to work yet. because of so much bedrest (i've been told I have plantar fasciitis in both feet, as well as "very large" heel spurs in both feet. I had the release in my L foot in mid October (but MD did not take the spur out) & have had problems with it.
It took me weeks to even start to be to partial wt bear, and an am still having a significant pain especially in the center of the heel & on the lateral side of my foot. I cant wear a regular shoe. Cant go to the grocery store etc. But because of insurance changes coming up, i don't have the pleasure of waiting any longer to have the R foot done. My problem is this, I want the heel spur taken out of this foot so I can tell if that makes any difference. But MD says thats not the problem. All I know is that my left heel has severe pain that radiates 1/2 the way of my calf.
But the heel feels like I am walking on a large nail.
Please help ASAP
----
Joshua Answers:
Hi Stephanie.
How'd the surgery go? How's recovery?
I actually saw your submission on Tuesday, so I figured there was no use in responding for a while...
So. Shoulder injury and resulting
Shoulder Tendonitis
dynamic. Then reinjury. Did you have actual
Shoulder Separation
?
And it sounds like you previously and currently have foot pain you're calling
Plantar Fasciitis
, and 'big' bone spurs.
Which tells me you have a variety of things going on,
including a serious
Pain Causing Dynamic
and a great need for Magnesium. See:
Magnesium for Tendonitis
Tendonitis
is an ongoing, progressive dynamic of increasing pain and tightness. Injury irritates it, and the worse it gets, the easier 'injury' happens.
See:
What Is Tendonitis
The body shapes itself to the forces placed upon it, so those bone spurs are forming for a reason (muscles too tight, putting too much force on that spot).
Remove and/or lesson those reasons, and things get better.
At this point...you're pretty jacked up I'd say.
So. What are your options?
1. My
The Carpal Tunnel Treatment That Works
DVD and Quick Start Companion that comes with it.
This will help you recover faster, reduce your pain levels, rehab your feet and leg structures, etc. Good stuff.
2.
The ARPwave System
. Full recovery in 4-8 weeks. Yes, I did say full.
Don't get me wrong, I'll put the content of my products up against anything else that's out there...but I can't compete with the ARPwave. So, fast recovery from
Plantar Fasciitis Surgery
, fix the problem causing your bone spurs in the first place, and you can fix your shoulder too (one thing at a time though, it can be halfway intense).
I suggest both options. Check out the Arpwave page (follow the link) and ask any questions.
Also, I don't currently have any products for the shoulder(working on that in February).
----------------------
Please reply using the comment link below. Do not submit a new submission to answer/reply, it's too hard for me to find where it's supposed to go.

And, comments have a 3,000 character limit so you may have to comment twice.
-----------------------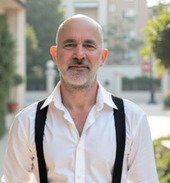 Joshua Tucker, B.A., C.M.T.
The Tendonitis Expert
www.TendonitisExpert.com