Guitar Tendonitis Strain Pain in between Knuckles
by Jack Ryan
(Gardena, California)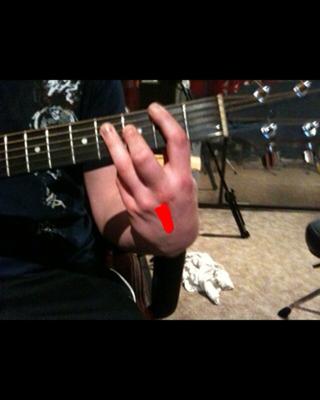 hand position which causes pain
Boy I'm really glad I found this site.


I have pain in my left hand between the 2nd & 3rd knuckles (middle finger & ring finger) and I knew something must be wrong today when I was doing the same weight lifting routine with right and left hands, but only my left hand hurt.
I think it could be only affecting my left hand because that's my fretting hand on guitar, and my chord hand on piano, so sometimes it has to stretch quite a lot. My left hand gets in some pretty uncomfortable positions while playing guitar or piano. Sometimes it has to stay in that position and push down.
The pain is in a very specific place (see attached photo). It's the same pain when I play guitar as when I was weight lifting today. The pain occurs from the act of squeezing, or gripping a bar.
It hurts when I connect the tips of my thumb and 4th finger (ring finger), and when I rub in between the knuckles and below. It's not a shooting pain, but more of a dull, achy-soreness. What is it? Is it tendonitis?
Thanks - Jack
----
Joshua Answers:
It
could be the beginning of
Tendonitis
.
I mean, look at that awkward position the hand/wrist is in for hours while playing. Easy to get strain there.
And sometimes, the body just gets aches and pains.
Still, might as well start keeping your hands/arms in as good a shape as possible if you want to play forever.
Start with some ice dipping as described on the
How To Reduce Inflammation
page and see what happens, then update me.
More questions, more answers.
----------------------
Please reply using the comment link below. Do not submit a new submission to answer/reply, it's too hard for me to find where it's supposed to go.

And, comments have a 3,000 character limit so you may have to comment twice.
-----------------------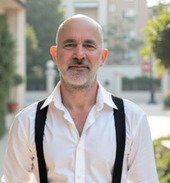 Joshua Tucker, B.A., C.M.T.
The Tendonitis Expert
www.TendonitisExpert.com