Guitar/Bass Player Gets Relief From Debilitating Tendonitis
by William
(Long Beach, CA)
Hey Joshua.
I'm a guitar/bass player and had recently been suffering from a pretty debilitating(and quite frankly, frightening) case of tendonitis, and your methods have already eliminated more of the pain in just a few days than any other method I've tried.
I was reading about the science behind why these methods work and this may be sort of a no-brainer, but would the same principle icing techniques work for some severe muscle strains that I've had for several months, and would this reduce the sensitivity of scar tissue that may have already been laid in place?
----
Joshua Answers:
Hi William.
I'm so glad you tried what I suggested. It works. Keep at it and you will continue to get results.
The short answer is 'Yes'.
Inflammation is a primary cause of pain, and a primary factor in the body doing 'bad' things that make the physical structure less and less happy. I know that's a highly technical statement...
While the body doesn't heal injury to a state of 'as good as new', it does a pretty good job. Except that Inflammation continues to hang out and tell the nervous system that there's a problem, so the nervous system continues to treat it like a problem.
Dial down and/or turn off the Inflammation Process, and that's most of
the battle.
Specifically for severe muscle strain, icing will affect the Inflammation response, and get new blood to muscles. A lot of times, muscles just hurt because they are ischemic, meaning that they don't have enough new blood to make them happy.
Just start rubbing/squeezing your muscles randomly and frequently throughout the day. This will get new blood in, old stuff out, and flex crunchy little bits of scar tissue, eventually making it soft and mobile again.
If you haven't, you may want to experiment with
Magnesium for Tendonitis
. That page will explain why.
Ask more questions, keep me updated.
----------------------
Please reply using the comment link below. Do not submit a new submission to answer/reply, it's too hard for me to find where it's supposed to go.

And, comments have a 3,000 character limit so you may have to comment twice.
-----------------------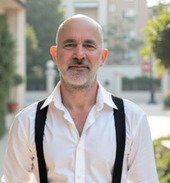 Joshua Tucker, B.A., C.M.T.
The Tendonitis Expert
www.TendonitisExpert.com