Hand and Wrist Pain That Only Hurts When Touched, Also Have Trigger Finger
by Daniel Groves
(London, UK)
I am having a problem with my wrist on my left hand, I have already been diagnosed with Trigger finger on my left hand ring finger but only suffer light clicking with no pain.
On my wrist the pain is shown in the areas outlined in red, the pain is only from touch and does not seem to come from any form of movement.
I lift weights 4 days a week (and have done for around 8 months) and also do Wing Chun (chinese martial art) once a week.
I have currently stopped all these activites untill the injury has been sorted out.
Thanks for your time.
Daniel
----
Joshua Answers:
Hi Daniel. Thanks for adding the picture.
I think I need to start with some questions.
1. How old are you?
2. How long has this pain been going on?
3. How long has the
Trigger Finger
been going on?
4. What activities do you do, or have you done historically, with your hands, other than lifting weights? And, heavy weights, or light weights?
5. History of hand pain? Other pain or injury?
6. What do the circled spots feel like when you touch them? Sore? Achey? Bruised? Numb/tingly?
7. Anything else that would be interesting for me to know?
Maybe you have
Tendonitis
, maybe just sore achey muscles. Answer the questions above, let's find out some more about you, and we'll go from there.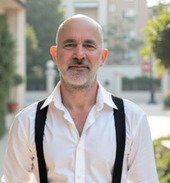 Joshua Tucker, B.A., C.M.T.
The Tendonitis Expert
www.TendonitisExpert.com