Having both feet operated on at once next week
by Melissa
(South Carolina, USA)
I am 36 years old and weight 350 lbs. About a year and a half ago, I went on a diet and began working out at the gym. I have always been completely healthy except for my weight.


With my age I knew that I needed to get this weight off before I started developing other issues. Everything was going well, I was six months into my exercise routine of Elliptical 20 minutes and weightlifting/resistance 20 minutes.
Total weight loss was at 52 pounds.
Feeling so much more healthier, I decided to participate in a heart-walk sponsored by my job. It was about 5 miles and I seemed to do ok with it. That weekend was rough though. My feet were hurting as well as my calf muscles.
Thinking nothing more of it I went to work and continued my normal activities. Things progressively got worse. I went to a podiatrist and for the last eight months I have tried everything from stretching, to orthodics, to night splints, to cortizone injections.
My regular podiatrist had an emergency and was going to be out of practice for a few months so, I decided to go an orthopedic surgeon for a second opinion.
It was determined that I had very thick plantar fascia. The average is somewhere around 5mm. My left foot was measured at 23 and my right at 26. It was also determined that I had spurs on both heels. Needless to say, I am at my wits end and am more than ready for surgery.
Because both feet are bothering me and I have limited amount of leave at work I opted for the bilateral surgery.
I'm having both feet operated on at once next week. I will update my progress after the surgery....
----
Joshua Answers:
Hi Melissa.
First off, ROCK ON! for losing 52 pounds. That's
awesome.
Rule of the human body:
The body shapes itself to the stresses placed upon it.
So of course your plantar fascia was thick, it's been needed to support all the extra weight.
Bone Spurs
develop for the same reasons: tight muscle and connective tissue are constantly pulling on that spot, 24/7.
In both cases the body thinks it needs to get stronger, so it lays down more fascia fibers, and grows some bone, to handle the extra load.
It's not ideal, of course, but necessary at the moment.
Tendonitis
is a dynamic, made up of predictable factors.
See:
What Is Tendonitis
Plantar Fasciitis
is just tendonitis of the foot, technically.
But most Plantar Fasciitis is a function of problem with the lower leg.
Remember you said you went for a long walk and your calves were sore? The Gastrocnemius and Soleus muscles were ALREADY too tight, and thus not able to do their jobs optimally. Muscles are shock absorbers. When they can't do that, all the force still has to go somewhere....guess where in your case?
How did your
Plantar Fasciitis Surgery
go? What exactly did they do? How's recovery going?
----------------------
Please reply using the comment link below. Do not submit a new submission to answer/reply, it's too hard for me to find where it's supposed to go.

And, comments have a 3,000 character limit so you may have to comment twice.
-----------------------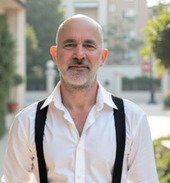 Joshua Tucker, B.A., C.M.T.
The Tendonitis Expert
www.TendonitisExpert.com