Heel Spur and Archilles Tendonitis, Multiple Doctors
by Yolanda
(Dallas, TX)
Hello my name is Yolanda, my pain started in August, it was minimal I had a small spur on the back of my heel and it would hurt when my shoe would rub on it.


I went to a podiatrist in September and he prescribed an ointment and he gave me heel arches. He also suggested ice 2-3 a day 20min and also to rest my heel as much as possible.
I followed his instructions and I did not get better he then suggested physical therapy I only did it for a week because it was painful. He then put me on a boot which I wore for about 2 months. I also had a cortisone injection. A PRP injection and two steroid injections.
I visited Dr #2 in December 2009 and he did not offer any other treatment aside from sleeping with the boot or having a cast.
Well last week I visited Dr #3 she advised for me to get another MRI because the one I had was back in October and she stated I might have a tear.
She said the best thing for me might be surgery. Dr #1 does not want me to have surgery he wants me to try all the procedures available before I have to do surgery.
I do not know what to do I just want to feel like I have a normal life again. Any help will be appreciated.
----
Joshua Answers:
Hi Yolanda.
Geez. Talk about a doctor runaround.....
I have some thoughts and questions.
1. What the hell was Dr. #2 thinking, 'sleeping in a boot'? That's crazy. Not even medical. Why did he want to cast you? What was the reasoning?
2. If
there was a tear showing in MRI #1, Dr. #3 should be able to see it. If there wasn't, and the pain is no different now than it was then, then it's unlikely that another MRI will show anything different. It might, of course, but when doctor's can't explain why pain is still there, more and duplicate tests are suggested 'just to be sure'.
3. What DID MRI #1 show?
4. Do you actually have Achilles Tendonitis? Or just a heel spur? Or?
5. You basically have tried all the possibilities 'before surgery'. The question is, will surgery help, and what -exactly- will surgery do? Did the doctor say?
So, I need to know what is going on in there.
Please describe the symptoms and history with as much detail as possible.
Please describe what exactly you have done for it so far, if anything is different than what you said above.
----------------------
Please reply using the comment link below. Do not submit a new submission to answer/reply, it's too hard for me to find where it's supposed to go.

And, comments have a 3,000 character limit so you may have to comment twice.
-----------------------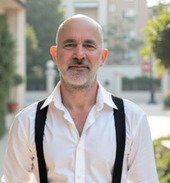 Joshua Tucker, B.A., C.M.T.
The Tendonitis Expert
www.TendonitisExpert.com