How Do I Break The Pain Cycle Of TMJ?
How do I break the pain cycle of tmj?
I drink powdered magnesium in water every night. That helps. My tmj is due to trauma 4 months ago.
It has improved on its own.
It doesn't click and pop anymore unless I forget not to open my mouth wide and fast.
It just feels "loose" in there now. It used to be quite spastic.
I do jaw exercises that I downloaded off the internet from tmj programs that had high ratings.
I don't want a splint, every dentist charges several thousand dollars for one plus other care they give you.
I have a chiropractor massage, stretch the area, even adjust the jaw gently and uses ultrasound and trigger point therapy.
It helps but I want to be able to handle this on my own.
----
Joshua Answers:
Hello Anonymous.
Magnesium, good!
Doing the exercises, good!
Loose now instead of spastic, good!
Getting better 'on it's own', great!
Don't want a splint? I'm on board with that.
Some questions:
1. Do you think that the looseness feels odd because it's been spastic and tight for so long? Or is it really -too- loose? And what does that mean, exactly?
2. Can you give me an idea of the trauma to the jaw? Dental, car crash, got hit, slept is a horrible weird position, etc.
3. Does what the Chiropractor
does help? Does s/he work inside the mouth too?
4. Depending on where you live (big city, little town) do you have any CranioSacral therapists around? (And I mean, someone who ONLY does CranioSacral work. A massage therapist that took a weekend workshop just won't cut it.)
5. Do you have full range of motion now with your jaw if you carefully open it/move it around?
6. Do you clench at night? Did you before this started?
7. Along those lines, has this really only been going on for 4 months?
----------------------
Please reply using the comment link below. Do not submit a new submission to answer/reply, it's too hard for me to find where it's supposed to go.

And, comments have a 3,000 character limit so you may have to comment twice.
-----------------------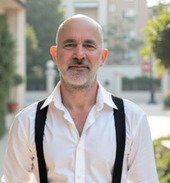 Joshua Tucker, B.A., C.M.T.
The Tendonitis Expert
www.TendonitisExpert.com