I got Whiplash at work and my neck has not been the same
by Roberta H
(Portland)
I GOT WHIPLASH AT WORK! AND MY NECK HAS NOT BEEN THE SAME. I HAD A (MRI) but they are saying everything is normal?
I still have great pain and it travels to different areas. And I hear crackling behind my ears and I have dizziness and headaches and my neck is still very sensitive. I dont know where to go from here!
I hope that maybe you can offer some good advise.
Respectfully:
Bobby
----
Joshua Answers:
Hey Bobby.
I do have some thoughts and suggestions, but need some more info first.
1. What exactly did you do at work that caused this? Or said another way, what happened, exactly?
2. How bad is the pain?
3. Where exactly does it travel?
4. Is the pain constant, or does it come and go, and/or does it only hurt when you move, or?
5. Any other symptoms? Loss of range of motion, spasm, etc?
6. Briefly describe the dizzyness and headaches. And again, how bad, how long does it last, etc.
I have a good direction or two for you, but we will both benefit from me getting some more info first.
Also, I wouldn't worry about the MRI thing, I'm not at all surprised that whiplash damage didn't show up.
----------------------
Please reply using the comment link below. Do not submit a new submission to answer/reply, it's too hard for me to find where it's supposed to go.

And, comments have a 3,000 character limit so you may have to comment twice.
-----------------------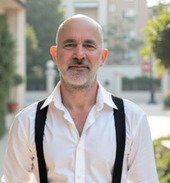 Joshua Tucker, B.A., C.M.T.
The Tendonitis Expert
www.TendonitisExpert.com