In my 4th bout of wrist tendonitis in the past 3 months. Why does it keep coming back?
by Melanie
(Apollo Beach, FL.)
Hello Joshua, I hope you can tell me what I'm doing wrong.
Usually after ice dipping for 1 week it is mostly cleared up but within 10 days to 2 weeks it comes back again.
How can I keep it from returning?
This time around it seems to be stuck even though I did the ice dipping. This time its going on 4 weeks.
My Dr. wants me to take prednisone and my question is will this medication keep the tendonitis from returning?
I suffer from fibromyalgia and am wondering if that has an effect on the tendonitis not healing completely.
Any advice you can share would be appreciated.
Thanks, Melanie
----
Joshua Answers:
Hello Melanie. Thanks for asking.
Answers in no particular order.
1. RE: prednisone. I'm not 'qualified' to say whether it will help or not. Then again, your doctor won't make any promises, and you won't get your money back if it doesn't work.
I'm not a fan of corticosteroids or NSAIDS. They don't deal with the source of the problem, and they don't even do a very good job of the target that they are supposed to target, which is inflammation.
My prediction is, at best, and notice that I said at best, it will reduce your symptoms for some amount of time.
2. RE: icing.
So icing is effective, good.
But I have a question before I can say more about that.
How active are you with your hands? I mean, you ice, then you stop ice dipping, and then what? Do you do a lot with your hands and the pain comes back, or do you do hardly anything and the pain comes back?
More questions down the page.
Depending on your answer, I may suggest that you ice till the pain is gone, then -keep- icing while you are active with your hands, then reduce
icing until you can be active -and- not have any pain. This is supporting your body keep itself happy.
3. RE: fibromyalgia and
Wrist Tendonitis
.
That does throw a wrench in the works. The question becomes....do you have wrist tendonitis? Or do you just have symptoms of fibromyalgia that show up focused in your wrists?
Lot of variables in there, that come down to this statement "Fibroyalgia is caused by, among other things, nutritional deficencies, results in a variety of symptoms including localized pain, and is 'curable'.
I say curable, because it is considered a disease, but it's really just a symptom. I can point you to who to talk to about reducing/getting rid of fibromyalgia if you are interested.
But as it is at the moment, answer some more questions so I know more what your picture looks like.
1. Describe your wrist tendonitis symptoms.
2. Why do you think that it is
Tendonitis
as opposed to anything else?
3. How 'bad' is your fibromyalgia? How long have you had it? In general, what are your symptoms?
4. How old are you?
5. How active are you with your hands?
6. Any other health issues? History of injury to the hands/arms?
Answer these questions, and then I can say with more confidence why your pain is returning.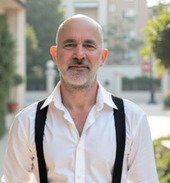 Joshua Tucker, B.A., C.M.T.
The Tendonitis Expert
www.TendonitisExpert.com