Is This Calf Pain Tendonitis?
Approximately two weeks ago my mother began having pain in her lower back leg between the ankle and the calf.
Her leg is tender to the touch if the area just below the calf if slightly massaged it is very tender.
She has difficulty walking because of the pain, but after she has started walking a little the pain somewhat decreases, but never goes away and when she sits down and elevates her leg the pain virtually ceases.
She has said that it only aches when she puts weight on the foot. She has said that the area feels as if it is extremely tight and balled up.
She does not remember injuring her foot or straining her calf or leg. What she described originally sounded like a muscle strain, but I am not so sure now.
Any ideas?
----
Joshua Answers:
Hmmmm. Strain sounds likely. And/or Achilles Tendonitis.
Just for safety, look up the symptoms of a blood clot in the lower leg. What you describe doesn't sound like that, but better safe than sorry.
Probably her muscles have gotten tighter slowly and slowly over time, and it's just hit a point of spasm and getting locked into a pain/spasm cycle.
Sounds more like Achilles Tendonitis to me.
If the pain is diffuse and all over and in the muscles, that's more tight muscle and strain.
If you can find sharp and/or hot spots on the big tendon and connective tissue between the calf and the ankle, that points to Achilles Tendonitis.
Feel around, and let me know.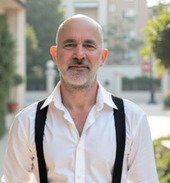 Joshua Tucker, B.A., C.M.T.
The Tendonitis Expert
www.TendonitisExpert.com