IWrist tendonitis or tennis elbow, I don't know if mine are related
by Elizabeth
(Mobile, AL, USA)
About 1 1/2 months ago, I was having tingling in my arm. Went to my internal medicine doc. He told me I had tendonitis in my wrist. Told me to wear a brace that went around my wrist and about 8" above my wrist.
I wore the brace for about a week.
I injured my knee at work.
Subsequently, I had to use crutches for a little over a month. I did not wear my wrist brace continuously. I now have what I think is tennis elbow.
Could this be related?
----
Joshua Answers:
It surely is related Elizabeth.
I'm curious how accurate the wrist tendonitis diagnosis is. And, I wouldn't expect wrist braces to help much anyway.
Suddenly being on crutches a lot can certainly have irritated your
Pain Causing Dynamic
.
And, it's entirely possible to have
Wrist Tendonitis
-AND-
Tennis Elbow
.
It's really all the same dynamic, it just matters where it shows up the most. The worse things get, the broader an area you're going to feel it.
Questions:
1. Where exactly -was- the pain?
2. Where exactly is it now. Where was the tingling?
3. Please describe your symptoms in as great a detail as possible.
4. How long has all this been going on?
5. Age.
6. Overall health.
7. Overall activity level.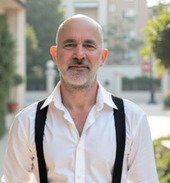 Joshua Tucker, B.A., C.M.T.
The Tendonitis Expert
www.TendonitisExpert.com