Numbness in finger tips...Carpal Tunnel Syndrome?
by Pete

I have numbness in my finger tips which makes it difficult to pick up small items, button clothes, etc.

Is this likely Carpal Tunnel Syndrome?

Will it likely get worse over time? Thanks

Pete Trowbridge



----



Joshua Answers:

Hi Pete.

Whatever it is, it's predictable that it will get worse over time, either quickly or slowly, unless you do something effective to break the pattern/dynamic.

Sure, this technically could be Carpal Tunnel Syndrome

The fact is, you have some numbness in your fingertips.

The question is, where is that stemming from? Is it from the carpal tunnel? Is it from up at the neck and front of shoulder/chest?

Let's investigate:


1. Describe fully the numb sensation. Where what when who how

2. Is it numbness that makes it hard to pick up, or is there clumsiness, lack of agility, etc.

3. What happens if you try to open a jar?

4. History of injury or accident to hand/arm/neck?

5. Has this happened before?

6. How long has it been like this?

7. Any other symptoms like pain, tingling, comes and goes, weakness, ache, etc?

8. Age.

9. Daily activitites you use your hands for historically.

10. What could have caused this?

11. Anything else interesting?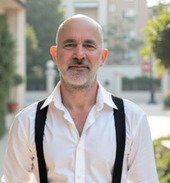 Joshua Tucker, B.A., C.M.T.
The Tendonitis Expert
www.TendonitisExpert.com