Pain and heat sensation at top of patella during and after running
by Bo
First off, I have always been a very active and athletic person. I enjoy lifting and running to stay fit. I am actually a certified fitness trainer.
My next challenge is enlisting in the military but I may have hit a road block before I even get started.
Over a year ago, I was heavily into lifting weights and less on cardio, as I was trying to "bulk" up.
I managed to put on 35 pounds in around a 3 1/2 month period (mostly good weight). I then decided to start adding cardio and trim away the extra fat pounds I may have gained.
I shorlty noticed pain in the knees as I pounded down the track, and then as I performed squats in the gym. So much that I gave up running (started biking) and quit free weight leg lifts.
I rested the lower body quite a bit and pain subsided for the most part.
I got back to training and the squats felt natural and pain free even after the session.
But once I went for my first run I had to cut it short due to pain in the knee, shin, and achilles (mainly all in the right leg).
I was even running on grass instead of pavement.
I don't think my running form is the best by the way. Anyway, the pain seems to be sharp again if I'm running or sitting for long periods. If i squat there isnt a lot of pain, but rather a crackling or grinding sound as I extend back up out of the squat.
When exercise is over, there feels like a warm sensation to the upper medial portion of knee companied by a dull ache in the right knee.
My guess is where the vastus medialis inserts. It doesnt hurt to walk or go up and down stairs, mainly just when I run or jump.
What's this appear to be and how can I get back to top shape and pain free.
I'm hoping my military dreams are still alive.
Thanks for all the help.
----
Joshua Answers:
Interesting.....
When you say 'pounding' down the track, that catches my attention. If you run with a heavy heel strike, and/or slam on
the surface instead of reach out with your feet to contact the ground, that could be setting you up for knee problems.
At this point it either looks like you have some inner joint issue, or the quads are super tight and putting lots of compression on the knee joint such that when you squat and run it causes irritation.
The latter isn't that big a deal to take care of.
I'm more worried about that grinding sound/sensation.
My first thought is to stop running and doing other things for cardio. My body doesn't like to do much running. It just...hurts. I'm good for a mile or two, running and walking.
Maybe you're just not a runner. I'm sure we could -learn- how to run correctly if we had the time and inclination to do so.
If you want to join the military, that might be a good idea to hire a track coach for a while to train you how to run correctly. I hear they like to run you in the military. :)
So if it's an outside the joint thing, I can help. If it's inside...not so much.
A
Tendonitis
dynamic we can deal with.
1. Is it grinding like 'creaking', or grinding like 'grinding'?
2. If you stopped running, do you think you could keep doing squates without pain?
3. Does it feel like inside of the joint or outside? Describe in detail please.
4. If you poke around, does it hurt all over, or specific spots? Hot spots or general pain or no pain when pressing around?
5. Say more about how you run and the 'pounding'.
6. Do you have any swelling or
Inflammation
?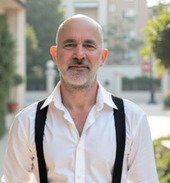 Joshua Tucker, B.A., C.M.T.
The Tendonitis Expert
www.TendonitisExpert.com