Pain in my neck. How can I tell if it is tendonitis?
by Amy
(AZ)
Does tendonitis show up on MRI's?


I haven't had one yet. Not sure why I have neck pain.
I have been to a Chiro and physical therapist. A neurologist put me on anti-inflamatories which really aren't helping much with the pain and muscle relaxers.
My pain has stayed pretty level for the past two months and I am thinking it may be tendonitis.
Would pain from tendonitis last this long with the treatments I listed above?
----
Hi Amy.
1. An X-ray won't show Tendonitis, but an MRI can be a useful way to get an idea about the location and severity of Tenonitis injury.
It's not a great view, usually more indicates swelling and inflammation. It can show tears and rips, but it's tougher to identify Tendonitis tendon damage.
2. Tendonitis pain can definitely last 2 months or two decades with those treatment methods.
Sometimes Chiro and PT can help you heal out of Tendonitis, sometimes not. It depends on the exact source and flavor of your neck Tendinitis.
3. Anti-inflammatories and muscle relaxants I give a big thumbs down to, especially the muscle relaxers.
Ibuprofen is fine for temporary pain relief, but not for actual healing.
So those are the short answers to your questions.
I need more information for more answers.
What happened to your neck? Car accident? Fall off a horse? Boxing?
Approximately how old are you?
Have you had other injuries?
Did you neck pain just show up out of the blue?
Curious minds want to know.....
----------------------
Please reply using the comment link below. Do not submit a new submission to answer/reply, it's too hard for me to find where it's supposed to go.

And, comments have a 3,000 character limit so you may have to comment twice.
-----------------------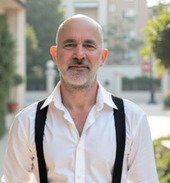 Joshua Tucker, B.A., C.M.T.
The Tendonitis Expert
www.TendonitisExpert.com