Plantar Fasciitis is back after Topaz surgery, with more pain and lump
by Bishop
(UK)
I had been having foot problems for nearly 2 years.


I had anti-inflammatories then opted to have cortisone injections. After the first injection, I had really no pain at all but after the next two it really made difference to pain levels. However, after the 3rd my consultant said I could not continue having injections and recommended Topaz surgery.
I went in to hospital as day patient in July 2010. I had anesthetic and went to theatre at 10.20am, I remember walking in recovery at 11.00am. There was no after pain at all. I did not take one painkiller. I wore a large aircast for 3 weeks and went back to hospital for check up. Everything felt fine and I was walking okay.
Six months down the line things were okay, but just about 1 week ago I felt pain in foot and slight lump at area of operation. The lump has got larger and is really painful (it is like walking with a marble in my heel). The pain is so bad and very tender to touch. I am now walking on my toes as I can't walk with the pain and lump.
I would say, however, that I am now sorry about having the surgery and I would have it again to take away this lump. I think it is a heel spur. Probably, I have just been unlucky, but I am not down in the dumps over it.
----
Joshua Answers:
Hi Bishop.
You didn't check the notifications box, so I hope you see this response.
Topaz surgery pokes lots of little holes in your tissue.
If
there's lots of scar tissue, that's a good thing because scar tissue blocks blood flow and blocks nervous system communication.
But it doesn't help the CAUSE of the
Plantar Fasciitis
problem, which is TOO TIGHT muscles and connective tissue in the lower leg.
Doctors go after the SYMPTOMS of
Tendonitis
, but not the cause.
Plantar Fasciitis Symptoms
show up for a reason. And that reason is the tendonitis dynamic.
See:
What Is Tendonitis?
So it's likely that the Topaz surgery did a good thing and gave you great results.....except that all the reasons that you had pain and problem in the first place didn't get dealt with, so those very same factors that caused your pain were still doing their thing and they robbed you of all the benefit of the surgery.
I'm curious if you now have a bone spur, or if that lump you describe is just scar tissue build up.
----------------------
Please reply using the comment link below. Do not submit a new submission to answer/reply, it's too hard for me to find where it's supposed to go.

And, comments have a 3,000 character limit so you may have to comment twice.
-----------------------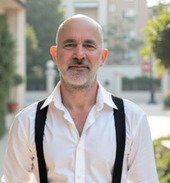 Joshua Tucker, B.A., C.M.T.
The Tendonitis Expert
www.TendonitisExpert.com