Plantar fasciitis surgery at 11 and 17 years old.
by May
(Queens NY)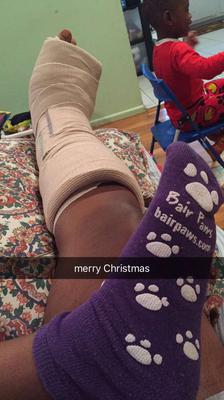 I have plantar fasciitis and apparently it was so bad that i had to have my whole foot reconstructed!


I had really bad pain and the surgeon and my mom decided it would be better for me if i did this while i was young so I wouldn't have to worry about it when im and adult.
I had both feet operated on. One in 2009 when i was 11 years old. Oh my god i was so scared and i cried on the way to the operating room!
Looking back on it i kind of laugh because of how scared i was! The surgery went great! And i don't have a problem with that foot as much anymore, i mean it does hurt here and there but I'm glad i did it.
I had my right foot operated on in December 2015. The hospital staff this time were so nice and funny! I was scared this time too, and the nurse yelled take out the chainsaws! I wanted to cry because i was scared but I laughed because that joke was funny. Then they put on some music in the operation room and then 5 minutes later i was knocked out. Then i woke up and that was that, i felt very sick though as anyone would feel after anesthesia.
This time's recovery felt much worse though. I was in terrible pain, and i took the strong prescribed pills, I forgot what they were called, but i was taking them every 4 hours like the bottle said but apparently i was only supposed to take them when i felt pain. But i didn't want to feel pain! I wanted to stop the pain before it happened! Those pills made me very sick though. I'm up and walking and i do physical therapy now and i walk with a cane as needed, but i still feel pain like I didn't even have surgery, its
the same pain from before.
I don't know if I'm supposed to feel like this or if it's because the surgery was only 5 months ago... I probably still need more time to be fully healed. The physical therapist said it can take up to a year for my foot to stop hurting :/
----
Joshua Answers:
Hello May.
Did you actually have
Plantar Fasciitis
?
Tendonitis
is a dynamic, that usually takes time to develop, and is rare in young people/children unless there is nutritional deficiency, other related issues, or deformity of some kind.
See:
What Is Tendonitis?
The
Plantar Fasciitis Surgery
you describe makes the scenario sound pretty severe. What exactly was going on that they had to reconstruct the entire foot?
I mean what -exactly- was 'bad'?
What were your
Plantar Fasciitis Symptoms
?
One thing you definitely should do to lower pain levels and speed up recovery is to
How To Reduce Inflammation
.
The chronic
Process of Inflammation
makes everything hurt more, keeps some amount of swelling in place, and tells the brain that there is a problem it needs to 'guard' against (which does bad things over time.
See:
Pain Causing Dynamic
Let's not wait a whole year to see if the pain goes away!
----------------------
Please reply using the comment link below. Do not submit a new submission to answer/reply, it's too hard for me to find where it's supposed to go.

And, comments have a 3,000 character limit so you may have to comment twice.
-----------------------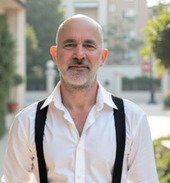 Joshua Tucker, B.A., C.M.T.
The Tendonitis Expert
www.TendonitisExpert.com