Plantar Fasciitis Surgery In Both Feet, best decision I made so far!
by Tina
(Pennsylvania)
I am a 46 year old female. I suffered with Plantar Fasciitis for 15 years. It started with the aching feet only on days when I was really on the go. Like if we went to an amusement park for the day. If I rested a day or two afterwards the pain would go away for a while.


It progressively got worse over the years. I would describe the early stages as it felt like my foot, ankle, and leg were fused together. First thing in the morning was the worse pain. I finally went to a podiatrist who subscribed arch supports and exercises for my feet and ankles. I thought I'll go with store bought arches instead of the expensive ones they were suggesting. The cheapos which I replaced periodically worked for a few years to lessen the pain some. Maybe 2-3 then stopped helping.
Next I tried the custom fitted arch supports. They were GREAT for a few years (maybe 4.) But I could NEVER go without them. I had to wear them every day from the time my feet hit the floor in the morning until I went to bed at night. I still had some pain but it was that I could live with it. I also faithfully did foot exercises before getting out of bed and while sitting at my desk during the day. Forget going bare foot - NEVER!
Finally they stopped helping and I was in constant pain. I did the Cortizone injections. They took about a week to kick in and then only provided SLIGHT relief for 3-4 weeks.
Did the boot thing at night, icing, pain meds, did the stretching exercises every opportunity I got. Standing in lines, sitting anyplace, etc. Couldn't continue that route. I was in so much pain until I got home from work I would just sit and cry. I gained tons of weight because everything hurt. I got to the point I didn't want to do anything but sit and cry and pray the pain would stop. Nothing seemed to relieve the pain for more than a few minutes. I ended up with heel spurs according to the doctor "So big you could hang a coat on them." in both feet.
Surgery was the next step and I am so mad at myself for taking so long to take this step! Now granted, it's only been since February (5 months) but I now see it was the BEST DECISION I HAVE EVER MADE. I get out of bed and walk, no pain, no exercises necessary, no supports, no shoes! It's wonderful!
I had the spurs "ground down" and the fascia released. I had one foot done at a time. I took 2 weeks off work each time. I had no need to take anything for pain after the first 24 hours. Even
during that 24 hours I only took the pain meds they gave me "in case". I was afraid the pain would kick in and I wanted to be ahead of it so I did take what they gave me. Since there was absolutely no pain, I stopped taking the pain meds and still didn't have any pain at all, none!
When I left the hospital the doctor told me not to walk on it at all for the first week. Then at the 1 week follow up appointment she said I should start putting slight weight on it still using the crutches and the walking boot. Still putting weight on it there was absolutely NO PAIN. I was amazed. It was very hard to "be a good little patient and listen to the doctor" about not walking on it because there was no pain.
The day I had the stitches removed, 2 weeks after the surgery, I walked right out of the doctors office in my own sneakers. The only pain I had during those 2 weeks was slight pinching towards the end of the 2nd week as the stitches started to pull a little. Not even worth taking simple Tylenol for. There was absolutely NO PAIN from the surgery. I was SO AMAZED! I couldn't believe it. Here I was with about a 5" incision with stitches on the inside of my heel area and I had NO PAIN.
4 weeks after the surgery I went on a vacation to Mexico. I couldn't wait to get back home to schedule the other foot to be done!
Now like I said, it's only been 5 months but these 5 month have been great! I am able to take my dog for a walk every day now.
----
Joshua Comments:
Thanks Tina!
What a perfect description of the usual progression of symptoms and treatments.
Isn't it amazing that we can sometimes get cut on like that and walk away pain free?
Please do enjoy your painfreeness (that is now officially a word), and keep track of the results.
I would love if you checked in every 6-12 months with an update!
----------------------
Please reply using the comment link below. Do not submit a new submission to answer/reply, it's too hard for me to find where it's supposed to go.

And, comments have a 3,000 character limit so you may have to comment twice.
-----------------------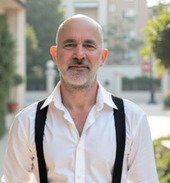 Joshua Tucker, B.A., C.M.T.
The Tendonitis Expert
www.TendonitisExpert.com