Plantar Fasciitis Tendonitis For 7 Years, New Foot Injury
by Casey
(Dallas TX)
Not sure how I stumbled onto your site, but here is my story.
I have the typical plantar problems for over 7 years now.
I have tried countless gimmicks and treatments over time and finally got a cortizone shot. The shot relieved the pain for almost a year but it has returned.
Last week during a soccer practice, I felt/heard a "pop" pain is now as bad as ever.
Significant bleeding/bruising has occurred. This story comes with one footnote. I too am a licensed massage therapist, working in a chiropractic clinic. I am full body certified in Active Release Techniques and use my skill and the skill of those around me to fix this problem every day, so your video will be the best $40 I have ever spent if you can tell me that it contains something I have been missing?
Looking forward to your help.
Casey
----
Joshua Answers:
Hi Casey.
Well, I don't know what you know, so I can't really say much about that...
It's worth a shot, I say, especially since there's a no questions asked money back guarantee etc.
I'm curious, though, what's different about you and your foot (feet?) that you can deal with other people's Plantar Fasciitis Tendonitis but not your own?
I'm also curious what exactly the 'pop'
was, and if it's a significant rip tear. Definitely caused bleeding.
So first thing is to get the blood/bruising out while at the same time dialing down the inflammation process.
How about this. Get the DVD. Watch and use it. Update me here and I'll fine tune your actions as necessary. It will be interesting to work with you.
If you don't think it's of value to you or as self care for you clients, let me know and I'll hit a button and refund your money.
Fair Warning: The DVD won't win me any Oscars for production values.
But there's at least two things on there that I bet you've been missing.
Let's see! :)
Get 'The Plantar Fasciitis Treatment That Works' DVD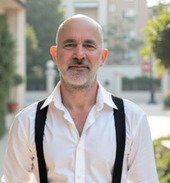 Joshua Tucker, B.A., C.M.T.
The Tendonitis Expert
www.TendonitisExpert.com