Post Carpal Tunnel Surgery Problems
by Susan M.
Hello, its been about 3 months since my open surgery on my left hand
I'm left handed
and for about 3 weeks now I've been having pain in my thumb area and the top of my wrist.
this is all new
The pain is moderate to severe and it hurts especially when i try to write anything.
My question is should I go back to the same doctor that did the surgery or try another? And what is causing the pain?
Thank you,
Susan M.
----
Joshua Answers:
Hi Susan.
Of course I have to ask for more info....
1. Did you have surgery for Carpal Tunnel or Wrist Tendonitis?
2. How was your recovery from the surgery? Painful or not so painful?
3. Did you rest and take your time starting to use your hand again, or did you just jump right into it?
4. What do you commonly do with your hands, that may have caused problems in the first place? And have you been doing those activities again?
5. Does it only hurt when you write?
6. Does it hurt constantly, or just when you try to use your left hand?
7. Do you have any numbness, or new numbness?
8. I think you said this, but the thumb and wrist pain is different than what you've had before, right?
As far as answering your actual question
about doctors, I would probably go with the person that did the surgery in the first place, if only because they are (should be) familiar with what exactly they did to your wrist.
I don't expect you will hear anything useful that will make a difference, but it will be interesting to go tell the doctor that the problem doesn't seem to be fixed.
And you'll be advised to take anti-inflammatories and rest the hand and watch it to see what happens, and all that.
I suspect your body has just been continuing along the Downward Spiral you had been experiencing before the surgery, the body has been injured more with the injury, and it is responding as it does, with more pain and tightness.
Answer the above questions, and let's see what we can do.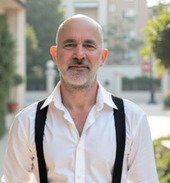 Joshua Tucker, B.A., C.M.T.
The Tendonitis Expert
www.TendonitisExpert.com