Question about your Healthy Wrist Protocol
I have used your wrist protocol from 'The Carpal Tunnel Treatment That Works' for the 2nd day, taking care to dip my arms every 10 minutes and then doing DVD secrets edited out.


Having had tendonitis in my left wrist for 18+ months I have no delusions of a quick fix.
I have been to an orthopedic surgeon who after an MRI finds no medical reason for my wrist pain.
My sense is that after 2 days my wrist pain is somewhat subdued. I am optimistic.
I have been performing the protocol over the 2 hour period, from about 7am - 9am. My wrist feels pretty good after the routine.
However, by late afternoon 2pm on the wrist gets more tender, sensitive and painful.
What would you recommend?
Would it hurt to do the
edited out
, and
edited out
in the afternoon without the ice dip?
Would it hurt to do the wrist protocol again?
Should I just be patient and let contiguous days pass of doing the protocol until my wrist pain really subsides?
--
Joshua Answers
Hey there.
First off, I'm all for quick fixes. It's just that there's too many things that promise them but don't deliver.
I'm so pleased you are following the protocol from the DVD.
It's not an instant fix, but as there are no magic bullets, it is still pretty quick. 18 months or 18 years, you can do A LOT in a week or two.
And, those are all great questions. I'm happy to answer them, and I have a challenge for you.
1. No, it wouldn't hurt to do The Healthy Wrist Protocol twice a day (just make sure you don't overdo the other options. Ice Dipping you can do as much as you want of).
2. No, it wouldn't hurt to do those other two things you mentioned and not the Ice Dip. Again, just make sure you don't overdo it. Gentle and repetitive is the key.
3. Should you just follow the recipe and let it do it's thing? Yes and no.
Here's the challenge:
Follow the recipe exactly for 7 days. See what happens.
Then, you'll have some experience knowing how the amount you did (in ratio to the time you did it) benefits you.
Then you can do more or less, as desired.
You make a good point about patience
.
You -could- do a lot more. The more the merrier (especially Ice Dipping).
And you could -probably- get a lot more results a lot faster. (You almost certainly would.)
AND, it takes some time for your body to shift itself. I don't know if faster results is necessarily better.
Ultimately, the shift needs to happen. The danger of getting out of pain -too- fast, is that you'll think you're all good, but your body won't have shifted enough to provide real lasting results.
So, the challenge is to be patient and just follow the recipe. What you will learn from that is, in my opinion, more valuable in the long run that getting out of pain faster.
So do that for 5 more days.
In the meantime, I'm curious.
1. You've been in pain for 18 months. Tell me about that. Did it come on fast, or slow? Were you totally pain free 19 months ago?
2. Say a little more about what the doctor said, and what s/he did to come to that conclusion.
It's possible you don't have actual tendonitis tendon damage, so much as you had a little damage once, and now are locked into Inflammation and The Pain Causing Dynamic.
Maybe both. Maybe other elements at play.
3. Do you have any other pain, in the arm/shoulder/neck/back?
4. You just have symptoms on the left wrist? What exactly are the symptoms, and are they constant? come and go? What aggravates, what makes better?
5. Where exactly does it hurt? Where on the wrist? Diffuse, all over, different spots? Palm side, back of the hand side? Forearm? Thumb pad?
6. What activities do you do with your hands?
If you're willing to answer the questions, I'm willing to help you figure out what exactly you have going on, and work with you till we have it handled.
If not, follow the Healthy Wrist Protocol from the DVD, and it will do wonders if you stick with it.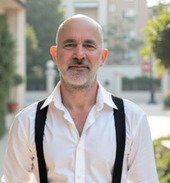 Joshua Tucker, B.A., C.M.T.
The Tendonitis Expert
www.TendonitisExpert.com