Right Achilles Haglunds lengthening surgery then pneumonia
by Lesia McKenzie
(Florence, SC)
41 year old, overweight but active, RN with no significant health problems. Kidey function great, no diabetes, lungs were great, heart fantastic, no arthritis, don't smoke, dont drink. No routine medications, blood pressure runs about 100/60.


I have Haglunds deformity on my feet. Both. Every step I took was painful. So, I went to see a podiatrist and after X-rays, failed orthotics, failed anti-inflammatory meds, and stretching exercises, he recommended lengthening the tendon instead of working on the bones. He said recovery was more successful and much shorter. 4 weeks no weight bearing with no PT. sounded great to me.
June 15, 2012 I had my right Achilles tendon done and a "stabilizing" implant placed in the ankle. That was Fathers Day weekend. went home with no meds except Percocet.
My first complication was thrush. I'm a nurse of 17 years so I thought it no big deal. Did the swish n swallow thing. All was good.
The follow up appt, June 19, doc expressed a tiny bit of concern and put me on Clindamycin 300 mg TID x 10 days he said as a precaution.
I started to get weak but thought that was just normal. The cold sweats started on June 25. I attributed that to no longer taking the Percocet. Wrong. I also started to smell the clindamycin in my hair, on my skin, and everything I touched. No one else could smell it but me. I found it very nauseating.
By June27, I was so cold and clammy....too weak to pick my head up, no appetite, and sicker than I've ever felt. I got my husband to take me to the ER. After a battery of tests, and four solid hours freezing in the waiting room crying like a two year old because I felt so sick, I was told I had left lower lobe pneumonia. Great. But at least we now know what it is.
They gave me one bag of levaquin 750 mg, one bag of IV fluids, and sent me home with a script for ten more days of levaquin 750 mg. withinh 12 hours I was back at the hospital feeling like I was losing the battle with pneumonia. That was Thursday, June 28.
This time I was admitted. Stayed until the following Monday. But, I continued to feel like I was just getting sicker. Discharged me home on five more days of the same levaquin.
Cold sweats and chils hit me again, harder. Still absolutely no appetite. By the following Thursday, I was so weak I could barely hold my head up. Called my family practitioner who recommended I go to what we call urgent care, one step down from the ER.
The doctor there did another chest X-ray and blood work. WBC was stil high and CXR showed no change. He sent me back to the same hospital ER to get a CT of my chest to see if it was pneumonia, an abscess, or a possible pulmonary embolism which scared me half to death. Nurses make the worst patients.
July 5 th and I was back at the hospital, another four hour wait sick, weak, and freezing, the CT showed it was just left lower lobe pneumonia but it was not responding to treatment. Since the levaquin wasn't working they called in Infectious disease consult. He said it was Mycoplasma pneumonia and not sensitive to the levaquin at all. He changed me over to Azithromycin and within 24 hours
I could tell it was working because the chills stopped.
The test for mycoplasma pneumonia however was negative. But, the treatment was working.
I was sent home from the hospital last Saturday, July7 th, with orders for Azithromycin x 3 more days. July 9th, my follow up with my family doc went well. I still feel like I have this brick in my chest, but he's released me to go back to work next Monday, July 16.
I am supposed to get the stitches and staples removed this Thursday, July 12. I hope this is a million dollar foot because I've been fighting pneumonia since at least June 25 th. not sure about getting this other foot done ever. Too scared right now.
The right foot, however, has not caused me one single bit of discomfort from day one. Ironic Hunh?
Comments, suggestions, ideas are more than welcome. I do not have it in me to go through that twice. I just can't.
----
Joshua Answers:
Hi Leisa.
Wow. What an adventure.....
Blech.
Ok, so.
1. I highly suggest that you do not take Levaquin again. It doesn't particularly sound like you suffered side effects, but you want to avoid them at all costs. Bad, bad stuff when a person is negatively affected by it. See:
Levaquin
2. As far as the pneumonia itself, I can't say anything about that as I really don't know anything about that.
3. On the topic of Haglunds:
Haglunds 'deformity' is not a disease, it's a symptom of a bigger dynamic.
As a natural rule of how the body works, the body shapes itself to the forces placed upon it. Muscle attaches to tendon/connective tissue. Tight muscle pulls on that tendon/connective tissue. That tendon/connective tissue is connected to bone (heel bone, specifically), and pulls on it 24/7, slowly pulling more and more over time as muscle slowly gets tighter and tighter over time.
Thus the bone growth/formation develops as the body tries to 'strengthen' itself to deal with the increasing load/force being applied.
Haglunds and
Bone Spurs
are a function of the
Tendonitis
dynamic.
See:
What Is Tendonitis
And as you implied, you have Haglunds in one side with not pain at all. Thus making my case that Haglunds is a symptom of a bigger dynamic, and not even actually the CAUSE of your foot pain.
The doctor had the right idea with the 'lengthening', but picked the worst possible method with which to attain that. Granted, he's a surgeon so surgery always seems like the best idea.
But it's not. Almost never in tendonitis/soft tissue situations.
There are better, more effective, no-downside-no-negative-side-effect, options. Options other than cutting into and injuring the body.
But you're where you're at now. So let's deal with that.
(I'm off to work out right now, I'll continue my response later today. Go ahead and comment with an update of what's been happening when you posted this.)
Also see: https://www.tendonitisexpert.com/43-year-old-runner-achilles-debridement-and-haglands-excisiongetting-there.html
----------------------
Please reply using the comment link below. Do not submit a new submission to answer/reply, it's too hard for me to find where it's supposed to go.

And, comments have a 3,000 character limit so you may have to comment twice.
-----------------------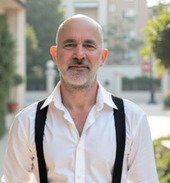 Joshua Tucker, B.A., C.M.T.
The Tendonitis Expert
www.TendonitisExpert.com