Haglunds operation and everything...
by Rob Lyon
(Northants, UK)
I remember having problems with my right heel for some years, which calmed down after a while each time but for the last year it had been particularly debillitating.


So I haven't run for the past year since the beginning of 2012 because it's been so bad. As a health psychologist I had determined myself that I had achilles tendinopathy and the location seemed to suggest it was insertional.
It took ages for the 'experts' to confirm this though and initial xray investigation even suggested it was nothing at all. This was only mildly as bad as the first gp I saw telling me I would have to live with it!
The next gp, who knew what he was talking about, sent me for an mri that got changed to an ultrasound by another 'expert' at the hospital. This confirmed my ideas of what I had and a course of physio was referred. I had already been doing the heeldrops from my own knowlege and experience of this.
Current guidelines suggest heeldrops should only be done to the floor for insertional tendinopathy but the physio progressed me onto drops off an edge. I carried on with these but eventually she backed me off this when the pain got worse.
After about 8 months I insisted I have an operation and my gp referred me. When I eventually saw the consultants registrar he referred me for an mri. This took more time but eventually confirmed the diagnosis as being quite severe. The op was on!
More time passed and the op was planned for some time in Dec. However, luckily a cancellation occurred and I had the op at the end of Oct. All I had read about the op involved accounts of pain and misery, so I was concerned about the outcome. Happily, from the time I woke up I've had no pain and all seems to be going well.
The consultant agreed the op needed to be done and I had achilles detachment, debridement and removal of haglunds growths before reattachment. They emphasised the op was for pain relief and that I should give up any idea of my former activity levels - no more Ironman triathlons! I couldn't carry on with the pain as it was so pain relief was good for me as a first.
The op went smoothly, the initial recovery was good, although boring
and I'm now 4 weeks into getting better. The stitches were removed after 12 days and the second cast removed after 3.5 weeks.
The airboot feels good and partial weightbearing is not painful. In fact, it feels as if full weightbearing will be fine too. However, they said this period is one of the most risky and that any 'pushing off' movement or activity should be avoided. I need to wear the boot for 4 weeks and can't drive in this time.
I'm hoping this will continue to go well and would recommend anyone to have this done if mine's anything to go by. We'll see what activity I can do in the future but chances are my future events will only involve cycling or swimming. Good luck to anyone in a similar position. Getting through and over haglunds is a long drawnout condition but don't lose heart; it can be done without too much pain.
----
Joshua Answers:
Hi Rob.
I'm glad to hear than things went well. Give us an update on how things are now. How was coming out of the boot?
1. What exactly was shown on the MRI that had it be 'severe'?
2. Why did the surgeons say you'd never be able to do a triathlon again? Or, why did they think that the surgery would work for pain relief but not for a return to former activity levels?
3. Technically the docs didn't say that you had
Achilles Tendonitis
?
4. What have you been doing for post-surgery self care/rehab?
Relevant:
43 Year Old Runner Achilles Debridement And Hadlunds Excision Getting There
Relevant:
Achilles Tendonosis Surgery And None Spur Debridement Happy And Ready To Do It Again
----------------------
Please reply using the comment link below. Do not submit a new submission to answer/reply, it's too hard for me to find where it's supposed to go.

And, comments have a 3,000 character limit so you may have to comment twice.
-----------------------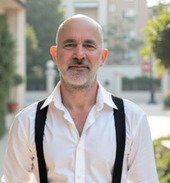 Joshua Tucker, B.A., C.M.T.
The Tendonitis Expert
www.TendonitisExpert.com