Ruptured Plantar Fasciitis after years of doing what the doctor said
by Sherry
(Bluffton, SC)
It's been 5 years since the heel pain first began. The Podiatrist/Surgeon I saw for 4 years didn't recommend surgery, advising only 50% success rate.


I work splints at night for 2 years. I used ice every night. I went to physical therapy for 3 years. I bought three pairs of custom made orthotics. I bought all the shoes they recommended. I did the exercises.
Then, about a year ago, I felt the tendon snap. I could hear it snap and I felt it snap. For a few days all the pain was gone.
I went back to the Podiatrist. He said Mother Nature had done what a surgeon would have done. However, he said I would be in for problems. The bones would begin to separate, the arch would collapse, the feet would begin the fall inward, and the pain would be even worse than before.
Well, his prediction came true. I now have totally flat feet, they are falling inward, and the pain is almost unbearable. Plus the realization that this is going to be my fate for the rest of my life is almost more than I can bear.
Anyone have any solutions? Anyone have surgery under these
circumstances? Can anyone face this forever?
----
Joshua Answers:
Hi Sherry.
That doesn't sound fun....
Before I can really comment...
1. What tendon snapped?
Or do you mean something in the Plantar Fascia snapped?
2. Did a doctor ever diagnose you with
Tendonitis
or
Plantar Fasciitis
specifically?
See:
What Is Tendonitis?
3. Did you ice regularly using the 'ice pack for 20 minutes' method?
4. Seriously your doctor doomed you to that fate, and there was no surgery option to connect anything back together?
----------------------
Please reply using the comment link below. Do not submit a new submission to answer/reply, it's too hard for me to find where it's supposed to go.

And, comments have a 3,000 character limit so you may have to comment twice.
-----------------------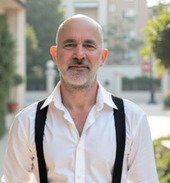 Joshua Tucker, B.A., C.M.T.
The Tendonitis Expert
www.TendonitisExpert.com