Shin splints treatment - to run or not run?
by Christine
(Ohio)
Hello! I am dealing with a moderate case of shin splints (I have all the symptoms you outline) - had my 5th child in April and started running again (was extremely active before, during pregnancy).
I was putting in a lot of mileage, but didn't encounter this problem until I started doing some intense hill, interval/speed training. Whoops.
Let's just say I over did it. I really had no idea I was doing the damage until about 3 weeks ago - pain that started in the lower part of the shin and then gradually rose - particularly worse at the end of the day (after I've been on my feet all day)
I stopped running immediately - it's been about 2 1/2 weeks and have cross trained with biking and pilates. Frozen green beans have been my icing method on and off throughout the day.
So here's my question.... they are still bothering me and I am willing to try the ice dipping and dixie cup massage. Should I still not try and run until all the pain subsides?
I have a feeling I could run pain free now, but by the end of the day they would be throbbing again. Most of the dull ache happens then (after a long day with 5 kids!) Will icing in itself further the healing?
I am a morning runner and usually hit the pavement without a lot of stretching, but have had no problems until those hills.
Thank you so much!
Christine
----
Hi Christine.
Whoops indeed! :)
'Damage' wise, the reality is that the ecology of your shins has been changing over time.
Muscles have gotten slowly tighter, connective tissue has slowly constricted/shrunk more and more, tiny levels of the
Process of Inflammation
have raised higher and higher as you body has done it's job and compensated.
It sounds like the hills put enough strain/pain/tension/change into the dynamic
to push you over a threshold into pain and more inflammation, with some wear and tear damage to boot.
That's how
Tendonitis
and the
Pain Causing Dynamic
works.
Ice Dipping is great, overall. I would do that were I you.
And, I definitely would do the Ice Massage as seen on the
How To Reduce Inflammation
page.
You've been icing off an on, that's good. Now it's time to put some time and intention into working on structure.
Ice dipping will do overall circulation, bad stuff out, good blood and nutrition in.
Ice massage will force that effect in deeper, while at the same time massage and stretch the tissue.
You may even want to get a frozen water bottle and use it like rolling pin on the shins, but drag it instead of roll it.
Make sense?
Also, I would either not run and do other cross training for a couple weeks while you concentrate on the icing and stretching. Or, do run/walks in stead of runs. Just enough to get your cardio up but not doing sustained strain on the shin structures.
As you are a morning runner, take 5 minutes and massage/pound/rub your shins and calves and feet, pre-warm it all up, get it mobile before you go running on less-mobile tissue.
What else?
Ask more questions, get more answers.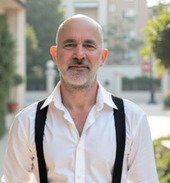 Joshua Tucker, B.A., C.M.T.
The Tendonitis Expert
www.TendonitisExpert.com