Should I stretch if I have Wrist Tendonitis?
by Barry
I have tendonitis in my right wrist. It started after kayaking with a tight wrist seal on my dry suit. Usually I wear short sleeves and have no problems even when kayaking for up to 10 hours a day.


For the last 3 weeks I have been resting, icing and taking anti-inflammatories but my wrist is still tender. I have just come across your website and will try the icing method that you suggest.
Should I be doing any stretches or is stretching likely to aggravate any inflammation?
Also I have heard of people using hot and cold to help blood flow but I don't know if this is a bad idea.
Thanks Barry
----
Joshua Answers:
Hi Barry.
Stretching for Tendonitis is perfectly ok -IF-, and I repeat, -IF-, you stretch LIGHTLY.
At all costs, avoid the sensation of pain. There's good pain, and there's bad pain.
If you stretch too much, too hard, then you send a danger signal to the brain. And your brain will respond with more pain and more tightness.
That's the
Pain Causing Dynamic
part of
Tendonitis
See:
What Is Tendonitis?
.
Basically, that's the main reason not to stretch, or to stretch lightly and carefully only.
The other reason to go gently, is that if you do have scar tissue build
up, when you stretch, it's not going to flex much. The more flexible tissue around it will, but it won't, and in fact might micro-rip and micro-tear even more (imagine bending a dry, crunchy sponge).
Maybe you got some damage from that kayaking. Maybe you already had some but your body was handling it. Maybe you just really irritated the ecology of your wrist and now your stuck in a pain dynamic.
Either way, you need to kick out the inflammation, and loosen up the muscles and connective tissue that are contributing to your symptoms of
Wrist Tendonitis
.
More questions, more answers.
----------------------
Please reply using the comment link below. Do not submit a new submission to answer/reply, it's too hard for me to find where it's supposed to go.

And, comments have a 3,000 character limit so you may have to comment twice.
-----------------------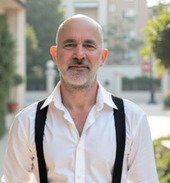 Joshua Tucker, B.A., C.M.T.
The Tendonitis Expert
www.TendonitisExpert.com