Shoulder Tendonitis Pain is getting worse! Arm movement restriced. Help
by Susan
(NJ)
Had an MRI showed mild tendonitis...mild shmild...it really hurts and my arm movement is becoming restricted! Advil is not helping.


Pain is from the shoulder almost to the elbow and on the move. I'm very active, 47, and have never felt the likes of this before.
What to do?
----
Joshua Answers:
Hi Susan.
1. Where exactly did the MRI show
Tendonitis
?
2. How exactly is arm movement being restricted?
3. Describe the pain. How what when where why?
4. Was there anything specific that caused this, or did it come on slowly over time?
5. How long has this been hurting?
6. Has it hurt before, historically?
7. History of car crash, falling down stairs, etc?
8. What do you do job/hoggy activity wise?
9. Overall health?
10. Overall nutrition?
Answer those, and I'll be able to provide you with better answers.
----------------------
Please reply using the comment link below. Do not submit a new submission to answer/reply, it's too hard for me to find where it's supposed to go.
-----------------------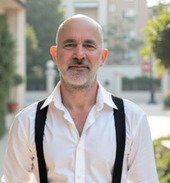 Joshua Tucker, B.A., C.M.T.
The Tendonitis Expert
www.TendonitisExpert.com