Snapped Both Achilles Tendons At The Same Time !!!!
by dave
(england)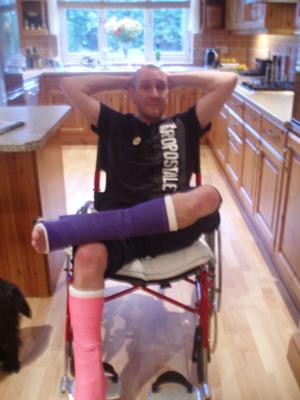 ouch
Hi all,


back in feb of this year , I managed to snap both of my achilles at the same time , I will never forget the noise they made one after the other as they snapped,
my local hospital IPSWICH in ENGLAND had never heard of any one doing this before.
I had no operation but spent three months in a wheel chair in plaster , then a further month or so in air boots " also known as moon boots "
I am now able to walk unaided but still in some pain , I try to walk as much as I can and find massage helps a lot !! would be nice to hear from any one with the same problem .
many thanks
Dave Brown
----
Joshua Answers:
Hey Dave.
Good times! I love the picture! :)
So, let's see. I take it that your Achilles tendons didn't rupture completely. How much did they rupture?
Could you walk at all after the snapping?
Boy, I bet massage helps. Your poor lower leg structures are so tight and shrunk wrapped in connective tissue right now.....anything you can do to open up all that tightness and constriction is a GOOD thing.
Did you have any amount of
Achilles Tendonitis
before? Meaning, did you have any symptoms and then snapped, or was it just out of the blue?
----------------------
Please reply using the comment link below. Do not submit a new submission to answer/reply, it's too hard for me to find where it's supposed to go.

And, comments have a 3,000 character limit so you may have to comment twice.
-----------------------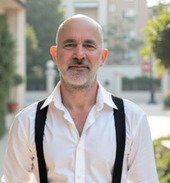 Joshua Tucker, B.A., C.M.T.
The Tendonitis Expert
www.TendonitisExpert.com