Swelling at base of fingers of my fretting hand
by Kevin Turner
(England, southampton)
Hello - Hope you can offer some help...


I'm a professional guitarist so until recently have been playing and practicing a lot for the last 12yrs -up to 10hrs per day easy.
After a return to the gym and lifting heavy weights I then had very swollen hands - saw a Dr and Hand specialist - told nothing to worry about, given some anti-inflams and then booted back out into the world....
Fast forward 18 months - when I play guitar I get swelling at the base of the left hand and lots of heat being generated (very hot)... I have had pain in my forearm and the smallest bit in my wrist a few months ago but have cut playing down to the absolute minimum I need to earn enough money to live - however even an hours playing will leave me with a really swollen hand..
Dr now thinks I've disturbed the joints at the base of the fingers and helpfully recommends I change career as soon as possible...not very helpful advice really..
Any suggestions on how I would proceed would be welcome..
Good luck to all with injuries...
Kev
----
Joshua Answers:
Hi Kev.
Sorry it's taken me so long to respond.
Wow, I'm impressed with your Doctor! Awesome! (Yes, that's sarcasm.)
So, let's get you taken care of.
First off, make sure you understand how the
Tendonitis
dynamic and
the
Process of Inflammation
and the
Pain Causing Dynamic
works.
Maybe you have actually'disturbed the joints'....whatever that means.
You definitely have a chronic Inflammation response in place that you constantly irritate with playing guitar (and everything else at this point).
I'd need more information before saying anything else.
1. How 'bad' is the pain?
2. Where exactly does it hurt?
3. Where exactly do you experience swelling?
4. How's your overall health?
5. How's your energy levels?
6. How's your digestion?
7. History of injury?
8. How much protein do you eat?
9. What have you done for the swelling? Does it work? How so?
10. Anything else that would be of interest at this point.
----------------------
Please reply using the comment link below. Do not submit a new submission to answer/reply, it's too hard for me to find where it's supposed to go.

And, comments have a 3,000 character limit so you may have to comment twice.
-----------------------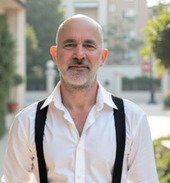 Joshua Tucker, B.A., C.M.T.
The Tendonitis Expert
www.TendonitisExpert.com