Tendonitis - Peroneus Longus/Brevis with swelling all year
by Khalai
(Malaysia)
Hi,
My name is Khalai. I have this tendonitis on my left ankle (outer) since 2007.
I feel the pain when I walk, and it gets worse when I try to stand on my sole. I believe this problem started because I was using shoe with damaged heel. I was admitted in hospital twice.
MRI scan confirms that it is tendonitis (on the tendons connected to peroneus longus and brevis).
As part of the treatment, I was given ice pack. I was also asked to elevate my leg whenever possible. All these don't really work for me. The doctor had to give me a few steroid injections, followed by weeks of physiotherapy, which gave me some temporary relieve. The swelling and the pain reduced. However, it didn't last long. The swelling came back after a few weeks.
The doctor said that it has become chronic. So, it's very hard to get rid of this problem permanently
Now, after more than 1 year, I still have this swelling and pain. I can't do some of my favorite activities. Sometimes I get muscle cramps on that part of my ankle.
Please let me know if there is hope for me. What should I do? What are the activities that I should avoid? Is there any treatment that will really work for me?
thanks,
Khalai
Malaysia
----
Joshua Answers:
Well, the doctor couldn't help it when it
was new and acute, so it makes sense he wouldn't be able to help you once it became chronic.
It's not any tougher to deal with now than it was then, though it make take a bit more time and effort.
Ice packs won't help much, depending on how you use them. Corticosteroid Injections won't help. Etc.
So, some questions first.
1. When you say swelling, what does that mean? How much? How big? Where, exactly? Is it constantly swollen, or just in the evenings, or?
2. How bad does it hurt now? When? Constantly, or just when you move on it?
3. How much movement/use does it take before hurting?
4. Just one leg, or both?
No worries. There is hope. It will take some effort on your part, but we can get you there if you are willing.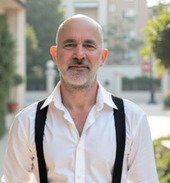 Joshua Tucker, B.A., C.M.T.
The Tendonitis Expert
www.TendonitisExpert.com