Tendonitis Repetitive Strain Injury from Baskin Robbins
by Adam Gabay
(Toronto, Ontario, Canada)
Hi Joshua,


I'm an 18 year old student going into university next year.
I've been working at my local Baskin Robbins scooping ice cream for 2 years; but this year I worked on free scoop day, which as you would imagine generates and endless line from the beginning of my shift to the end. I was scooping ice cream for 5 or 6 hours straight, and my wrists were killing me.
I took work off for a week, and the pain went away... so I went back to work.
It's now about 2 months after that, and the pain is coming back. It's the worst when I'm scooping, but whenever I strain my wrist (Climbing, excercising, even etc.) I aggravate it. Leaving work is NOT an option for me, as I NEED the money from this summer for university tuition. I looked for a new job and failed.
Please, can you help me decrease or hopefully stop my wrist pain?
----
Joshua Answers:
Hi Adam.
How are your wrist and forearms doing now?
Welcome to the wonderful world of
Tendonitis
!
Repetetive motion, a slow build up of tightness and pain, symptoms come and go and get worse and worse....that's the
Pain Causing Dynamic
.
It's safe to say that your muscle and connective tissue structures got tighter and tighter and a
Process of Inflammation
slowly built up and your body did it's best to handle things on auto-pilot.
But
then one day you scooped too much ice cream and it sent your
Wrist Tendonitis
dynamic over the edge.
Suddenly, your body was losing the battle and kicked into high defense mode, which means that you feel pain, and pain that doesn't particularly go away. Certainly not if you're using your hands.
The question is...are you actually injured? Or do you just hurt because your structures are too tight and irritated?
You definitely want to learn
Process of Inflammation
. Ironically, you work(ed) in an ice cream shop. Too bad you can't ice dip in the ice cream.
Ice Cream Dip!
More questions, more answers.
----------------------
Please reply using the comment link below. Do not submit a new submission to answer/reply, it's too hard for me to find where it's supposed to go.

And, comments have a 3,000 character limit so you may have to comment twice.
-----------------------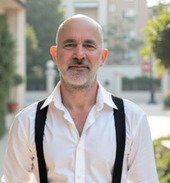 Joshua Tucker, B.A., C.M.T.
The Tendonitis Expert
www.TendonitisExpert.com