Tried ice, seems to make my wrist tendonitis worse.
by Gary
Hello.


I have a mild case of tendonitis in my wrist. It seems to be about 3 inches below the hand on the thumb side of the wrist where the muscle/tendons meet the bony part.
If I use my thumb a lot, or pump my forearm with blood, it gets very tight and will then hurt if I extend my thumb. I tried the ice dipping on your web site once, but it increased the feeling of tightness for a few days afterward.
So I haven't been icing or heating it, just resting/ibuprofen and regular stretching. Do you think I should give icing another go? My thumb also tingles a bit.
I'd appreciate the response.
Thank you
Gary
----
Joshua Answers:
Hi Gary.
Thanks for trying the Ice Dipping -and- asking questions about it.
That's a way better option than giving up and never finding out more information.
So.....
1.
It sounds like the muscles/tendons/tissue are VERY TIGHT. If you can just pump the muscles a few times and have it cause that sensation of extra tightness and then pain when extending the thumb, that's a definite clue.
That could also explain the tingling in your thumb, as tight muscles step on and off the hose of the nerve(s)
2.
That's an interesting response to the icing. I have some questions I'll ask below, but I'm curious whether:
your forearm had a 'bad reaction' to the ice dipping,
or it's entirely possible that the ice dipping got rid of some of the 'pain' which made you more able
to accurately feel just how tight your muscles really are.
I can't imagine ice dipping actually making things tighter, but who knows.
Get back to me with answers to the questions below, and let's get to the bottom of this and help you get out of pain.
Questions to answer
1. What do you do with your hands, work/hobby wise, that might have led up to this?
2. How long have you been hurting with this?
3. Anything else a problem in the arm/shoulder area?
4. If you poke around, is there tightness/pain more in the lower forearm area, the thumb pad, or both? (I'm guessing both)
5. Just one hand, or both?
6. When you say that you did the Ice Dipping "once", does that mean you did the 10 times for 10 seconds each in a two hour period, or you just dipped 1 time?
7. Any other symptoms or details you didn't mention in the original question?
8. Ask more questions if you have any.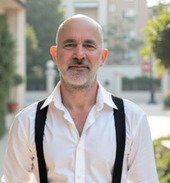 Joshua Tucker, B.A., C.M.T.
The Tendonitis Expert
www.TendonitisExpert.com