Update on my wrist tendonitis
by William Buckley
(Long Beach, CA)
Hey Joshua, I've been applying your ice-dipping routines to my left arm since I heard about it on your page about 2 months ago.
Thus far it has given me great relief from the pain, but the tendons are still rather stiff and considerably weaker than those on my right.
I've been taking glucosamine and magnesium supplements for about 2 weeks now, and I've been very conscious of my protein intake since long before the pain's original onset.
So with that in mind, how should my course of action progress from here?
----
Joshua Answers:
Hey William.
If you walked into my office in Berkeley (update:
I'm no longer in Berkeley) and said what you just said, I nod knowingly about the icing, and then I would feel around your forearm and hand and expect to feel tight muscles and constrictive connective tissue.
First things first. Get inflammation response dialed down. You have done that.
Next, is open up the constrictive tissue. Chronically too tight muscles put constant tension the tendon, thus the feeling of stiffness.
Connective tissue shrink wraps everything, and adds to the constant tension from all directions. And, muscles can't relax because they have nowhere to expand, because they are like a half squeezed sponge tightly wrapped in saran wrap.
This is partly to blame for the sensation of 'weakness'. Some of it is the muscles are constantly working so hard they are *that* close to fatigue already, and some of it could be that the nervous
system just won't allow them to fire very hard because it thinks that it will cause damage.
So.
Massage your forearms and the muscles in your hand/thumb. Dig and stretch, poke and squeeze, sink an elbow in your forearm muscles and open and close your fingers/fist/wrist (pin and stretch).
You could stretch the traditional ways, but I would rather you focus on pin and stretch and self massage. Dig into your tissue and that stretches the tissue directly.
1. Let's see if you have actual
Tendonitis
damage or if you just have the remnants of a reversing
Pain Causing Dynamic
.
If you feel around your tendons in the affected area, do you feel any specific hot spots on the tendon?
2. How much Magnesium are you taking, out of curiosity? And how did you arrive at that amount?
3. That was kind of a fast answer. Did it give you an idea of what to do next?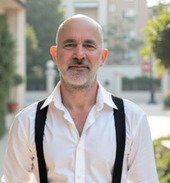 Joshua Tucker, B.A., C.M.T.
The Tendonitis Expert
www.TendonitisExpert.com