Used to have Carpal Tunnel, now have Tendontiis, hands with no pain
I use to have CTS and it went away now i have tendinitis.


But there is no pain all it feels when i move my fingers is tiny strings on top of my hands. Do you know what it is?
thanks
----
Joshua Answers:
Hi there.
Hmmm, say more.
1. Please describe 'strings'.
2. WHy do you think you have
Tendonitis
now?
3. Why do you think that you don't have
Carpal Tunnel Syndrome
now?
4. No pain? At all? Anytime?
Answer the above and that will give me a place to start.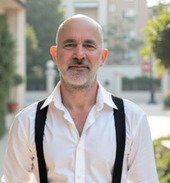 Joshua Tucker, B.A., C.M.T.
The Tendonitis Expert
www.TendonitisExpert.com