Whats your view of various tendonitis creams and gels and sprays ?
by Paul
(Wales, near london , england)
Over here in england we have available through health and fitness stores...
glucosamine rubbing / massage gel
magnesium oil / spray for massage
MSM gel, cream ..for massage
What do you think of these products (I haven't added brand names so you wont be in court !!)?
Or is it better to just increase intake of nutrients and vitamins through the bone broth and magnesium tablets ?........ ( which are a lot cheaper on the pocket that the magnesium and glucosamine oils and gels listed above)
And use just cheaper grapeseed oil for self massage ...as the massage effect itself is what helps, rather than say magnesium directly on the tendon...as this can be introduced at much higher levels through the tablets ?
thank you joshua
----
Joshua Answers:
Hi Paul.
In general, I'm not a fan of sprays, creams, or gels. I just haven't found them to be effective, certainly not at treating the SOURCE of the problem. (See #3 below)
1. I haven't heard anything good/effecive about MSM gels.
2. I haven't heard anything at all about glucosamine gels/creams.
3. Magnesium oil, on the other hand, can be REALLY effective. If the pain is Magnesium related, I've heard of big and immediate results.
If it's not, then one shouldn't
expect much results.
Only one way to find out.
The thing with the mag oil, is that sometimes one can't take enough orally for the body to do anything effective with. And sometimes it just works out that local on-skin delivery really works with your body.
My point is, I consider Magnesium oil to be worth the effort. Granted, it will help, or it won't, depending on your exact situation.
Massage oil wise, the oil doesn't so much matter for effectiveness. It's the massage that really makes the difference.
Having said that, I would use Coconut oil, or a good organic oil of some kind. Your skin absorbs, so my as well put good stuff on it.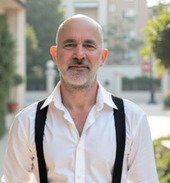 Joshua Tucker, B.A., C.M.T.
The Tendonitis Expert
www.TendonitisExpert.com