Wrist hurts while trying to play guitar
by Chris
(New Hampshire)
I've recently started playing guitar and I've noticed that my left wrist (the one I am fretting the guitar with) gets sore while trying to play or do any complicated kind of chords that require my wrist to be turned.
The soreness is only on the left side of the wrist where that little ball/bone like thing is.
I've had problems with my wrists before I started playing guitar, and I think it's mainly because of typing so much. I really want to get rid of this problem without having to get medication or surgery or anything like that. It's really holding me back from playing.
What do you think this is and can it be helped?
-Thanks
----
Joshua Answers:
It absolutely can be helped.
1. What kind of problems did you have with your wrist before?
2. How much computer work do/did you do?
3. How bad, and how often, do you have pain?
4. How old are you?
5. Any other health issues/problems/pain?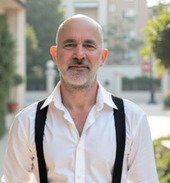 Joshua Tucker, B.A., C.M.T.
The Tendonitis Expert
www.TendonitisExpert.com