Wrist Tendonitis In My Left Hand My Guitar Playing Hand
I have wrist tendonitis in my left hand from playing guitar.
My left hand feels stiff most of the time.
It hurts when I play guitar.
What can I do?
----
Joshua Answers:
Hello there.
Short question, short answer.
1. Learn
How To Reduce Inflammation
.
2. Understand the nature of
Tendonitis
.
3. Up your levels of
Magnesium for Tendonitis
.
4. Self Massage the wrist and hand and forearm, both sides.
5. You may also want to consider getting my ebook
Reversing Guitar Tendonitis
.
See Related:
I Have A Locking Pinky Finger From Playing Guitar
See Related:
Guitar Tendonitis Problems For 12 Years
----------------------
Please reply using the comment link below. Do not submit a new submission to answer/reply, it's too hard for me to find where it's supposed to go.

And, comments have a 3,000 character limit so you may have to comment twice.
-----------------------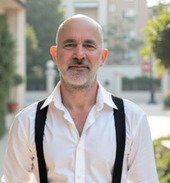 Joshua Tucker, B.A., C.M.T.
The Tendonitis Expert
www.TendonitisExpert.com