Wrist Tendonitis, Which Of Your DVDs Would Be Most Appropriate?
by Anonymous
I have wrist tendonitis (with or w/out injury I don't know).
Other than the ice dipping which I intend to start tonite, which of your dvd's would be most appropriate?
----
Joshua Answers:
Hi there.
Great question.
Give me a little more information, and I'll be able to give you a better answer.
1. Do you have any of the
Carpal Tunnel Symptoms
?
2. Do you have pain, tightness, etc, in the forearm and/or up towards the elbow?
3. Why do you think you have
Wrist Tendonitis
as opposed to anything else?
4. What are your symptoms?
5. When exactly does it hurt?
In general, I think that
The Tennis Elbow Treatment That Works
is the best option, because with a little bit of fine tuning it has everything needed to deal with wrist tendonitis.
Having said that, depending on what you tell me,
The Carpal Tunnel Treatment That Works
may be a good option.
Answer the above questions, and we'll go from there.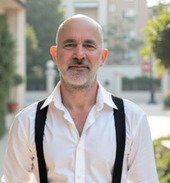 Joshua Tucker, B.A., C.M.T.
The Tendonitis Expert
www.TendonitisExpert.com