How to Avoid Degradation in a Possible Levaquin Tendon Injury
by Karen
(Chicago area)
I was prescribed 500 mg/day of Levaquine for both a UTI and Upper Respiratory infection in November of 2007.

By the 3rd day of taking the prescription I was in bed with terrible nausea and a severe headache (both common side effects of Levaquine).

I phoned the doctor and he had me stop the Levaquine and I believe I was switched to a Z-pack.

Since that time, I have had periodic pain in the upper front of my hip. It usually follows moderate exercise, such as playing tennis.

Until recently the pain would be gone within a day or 2, but now I am on day 8 of pain following an hour of tennis. I am walking with a limp to put less weight on my injured leg. (Which, by the way, I never injured on the tennis courts.)

It has been getting a little better, but after reading your conversation David T. Fuller, I'm concerned that I may be just at the beginning of a lifelong problem that will just get worse.

Has it been confirmed that Levaquine-related tendon injuries do degrade the tendon over time, or cause a permanent change in DNA?

Does a person with this Levaquine-induced condition have to just greatly reduce or minimize physical activity to avoid the condition worsening? And have Levaquine users found success with the beef broth, magnesium and ice?



----



Joshua Answers:

Hi Karen. You didn't click the box and enter your email to get notification of this response, so I hope you find it....

So either you have a non-Levaquin related tendon/muscle Pain Causing Dynamic that just happened to show up coincidentally, (regular tendonitis issues usually progress and get worse, nothing surprising there), or you have Levaquin Tendonitis that just happened to for some unknown reason show up at the front of your hip.

The rest of this is responding to the Levaquin side of things.


Has it been confirmed that Levaquine-related tendon injuries do degrade the tendon over time, or cause a permanent change in DNA?

From what I've seen, it's not that floroquinolone cytotoxicity damages tendon over time, it's that the one time influx of toxicity and the body's response/interaction with it does some kind of long term, lasting damage.

Science doesn't seem to agree on why exactly that is. DNA damage has been found, and it's probably the best theory for why tendon and other connective tissue doesn't heal very well. Something in the healing is flawed.

In other words, there's no 'for sure' answer as to the cause yet.


Does a person with this Levaquine-induced condition have to just greatly reduce or minimize physical activity to avoid the condition worsening?

There's a catch-22 there. If you exercise too much, the tendon gets irritated and hurts you. If you don't exercise at all, overall your body becomes less healthy and less able to deal with the continual dynamic of Levaquin
damage.
And, it depends on your exact situation. Some people shred their tendons just by standing up out of a chair. Some people just have pain and have to moderate their mobility, or learn to push it just right.
It depends on how 'fragile' your structure is.
And have Levaquine users found success with the beef broth, magnesium and ice?
Honestly, I haven't heard back.
Ice will reduce pain and get new blood and nutrition to damaged areas, if you do it enough (it's a learning process). But it's not a cure and won't reverse the problem.
Magnesium -should- help with muscle tightness and pain and help a person sleep, if one takes enough to get one's levels up.
And while Magnesium bonds to the Levaquin and prevent it from working, it looks like all active aspects of Levaquin are out of the body in three days. Still, were it me I'd get my Magnesium levels up anyway, because it's healthy for you and on the off chance it will bind any still active ingredients lurking and causing problems.
The
Bone Broth
is full of nutrients your tendons and body need.
Flooding your body with good nutrients can't hurt and can only help.
The problem with
Levaquin Tendonitis
is that A. Nobody knows and B. Everybody's reaction and interaction with Levaquin is different. Some are worse off than others.
But there are common (unknown at this point) elements. These common elements will, I predict, eventually be found and explain why some people get damage and different amounts of it, and some don't.
In the interest of finding -exactly- where the body is deficient (the best common element theory I've seen so far), and seeing if those deficiencies, if accurately supplemented, can get the body working well enough to overcome Levaquin's ongoing damage, I recommend the test at the bottom of this page:
Levaquin Tendonitis Treatment
I have a page of suggestions for overall support that are worth trying. And, for targeted assessment of various markers in the body and how your body is working (detoxifying, creating cell energy, etc) I hope people will get the test.
I believe that it's worth it.
----------------------
Please reply using the comment link below. Do not submit a new submission to answer/reply, it's too hard for me to find where it's supposed to go.

And, comments have a 3,000 character limit so you may have to comment twice.
-----------------------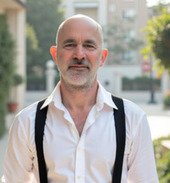 Joshua Tucker, B.A., C.M.T.
The Tendonitis Expert
www.TendonitisExpert.com