A Soft Lump On The Inner Part Of My Wrist. Is It Carpal Tunnel?
by Arianne
(CA)
My wrist usually has a soft lump on the inner part. Is that carpal tunnel? Usually this happens when i lift heavy objects.


----
Joshua Answers:
Hi Arianne.
I definitely need more information....
1. Where exactly is the lump?
2. How big is the lump?
3. Is the lump constant, or does it come and go?\
4. Do you have any
Carpal Tunnel Symptoms
or a history of
Tendonitis
?
5. Does the lump ONLY show up when lifting something heavy?
6. Is is a hard bump like a nodule, or a swelling like from inflammation?
The more details the better.
-Generally-, lumps are a separate issue from Carpal Tunnel, but you can have both.
----------------------
Please reply using the comment link below. Do not submit a new submission to answer/reply, it's too hard for me to find where it's supposed to go.

And, comments have a 3,000 character limit so you may have to comment twice.
-----------------------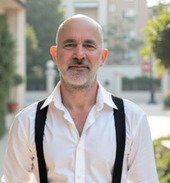 Joshua Tucker, B.A., C.M.T.
The Tendonitis Expert
www.TendonitisExpert.com